InterWorks recently landed on two award lists honoring the fastest-growing companies in Oklahoma's largest metro areas, Oklahoma City and Tulsa. In September, InterWorks ranked No. 38 on the OKC Metro 50 list. Last week, InterWorks ranked No. 13 on the Tulsa's Fast 40 list.
The honorees for both awards were invited to attend and awards banquet in their respective cities. The OKC Metro 50 awards banquet was held at the National Cowboy & Western Heritage Museum in Oklahoma City. The Tulsa's Fast 40 awards banquet was held at the Hyatt Regency Tulsa.
"If there's one thing we've learned from these awards, it's that business is thriving in Oklahoma," said InterWorks' CEO, Behfar Jahanshahi. "We're proud to join the ranks of Oklahoma's fastest-growing businesses by doing what we do we best – delivering technology solutions that help others grow."
Above: InterWorks' CEO, Behfar Jahanshahi, accepts the OKC Metro 50 award.
How It's Decided
Both the OKC Metro 50 and Tulsa's Fast 40 are hosted by "The Journal Record," an Oklahoma-based news publication, in conjunction with local chambers of commerce and businesses. Winners on both lists are ranked by verified revenue growth spanning the previous two-year period. Companies are also recognized for their positive impact on the local and state economies. 
You can view the full rankings for each award list below: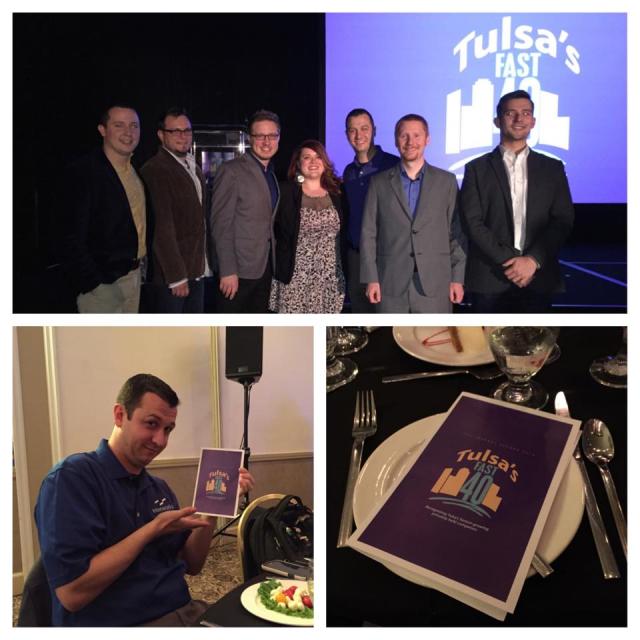 Above: Team members from InterWorks' Tulsa office at the Tulsa's Fast 40 awards banquet.
Success Throughout the Year
InterWorks' success hasn't been limited to the OKC Metro 50 and Tulsa's Fast 40 lists, far from it. Throughout the year, we racked up several awards on the local, state and national level. These awards recognize everything from growth and excellence to simply being one of the best places to work in Oklahoma. Even more impressive is that we've won many of these awards for several consecutive years.
Here's a list of awards and honors brought home by InterWorks and our employees this year:
With each award won, people ask us: "What's the secret to InterWorks' growth and success?" It all boils down to quality people, quality solutions and an unwavering commitment to client satisfaction. By putting these three things at the forefront of everything we do, our growth takes care of itself.