Tableau purchased Power Tools in 2019. Contact Us for more information.
InterWorks joins Tableau yet again on their latest major tour, the Tableau 8.2 Roadshow. The purpose of the Tableau 8.2 Roadshow is simple: show off all the amazing new features and capabilities of Tableau 8.2.
The InterWorks team covered each new feature in detail:
Each Tableau 8.2 Roadshow event includes ample time for networking, an engaging Tableau 8.2 keynote, hands-on breakout sessions and plenty of time for Q&A. It's the perfect chance to learn everything about Tableau 8.2. Tableau veterans and beginners alike are encouraged to attend. Best of all, each event is completely free. 
When & Where
The Tableau 8.2 Roadshow begins on July 8. Below is the full list of stops:
InterWorks a Top Sponsor Again 
As a Tableau 8.2 Roadshow sponsor, InterWorks will attend every U.S. event along the way. This continues InterWorks' long history of Tableau event sponsorship. While Tableau showcases their fantastic new features, InterWorks will show people how to use them practically and efficiently. InterWorks' BI consultants have already mastered Tableau 8.2, and they're ready to assist attendees with all of their Tableau consulting and training needs. This plays right into InterWorks' reputation as the leading provider of Tableau services. 
See Power Tools for Tableau in Action
Tableau 8.2 is exciting in its own right, but InterWorks has a little something extra to show event attendees: the revolutionary Power Tools for Tableau. InterWorks first presented these tools at the Tableau Conference on Tour in Europe, but the Tableau 8.2 Roadshow marks the first chance to show off these tools stateside. InterWorks will give live, hands-on demos of Workbook Tools for Tableau and Workbook SDK for Tableau at each event.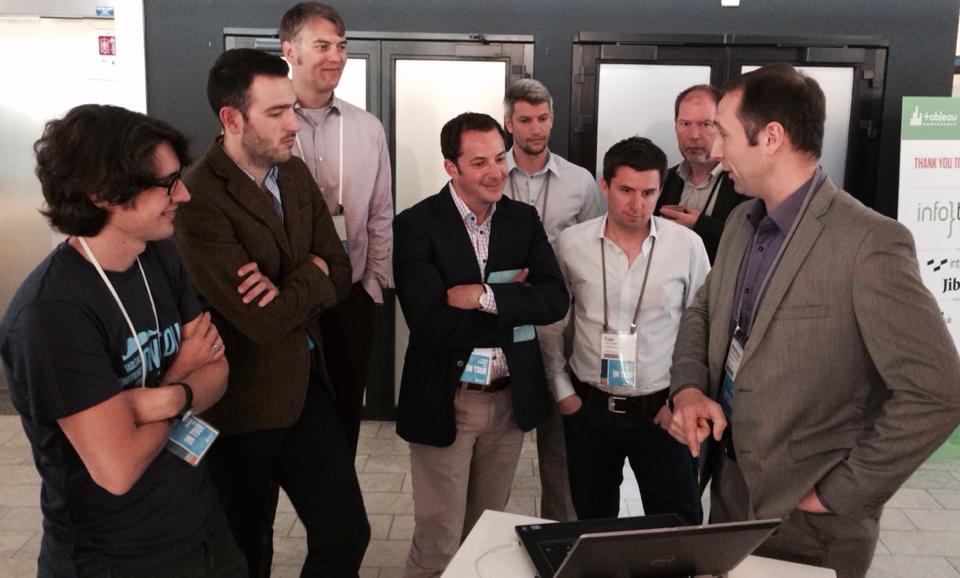 Above: Matthew Miller (right) demos Power Tools at the Tableau Conference on Tour – The Hague.
Tableau Road Warriors
InterWorks is no stranger to the road. They previously joined Tableau on the Tableau 8 Tour, the Tableau 8.1 Roadshow and the current Tableau Conference on Tour in Europe. They even put on their own "Tableau Your Data!" book tour across the U.S. and now Europe.
What's the reason for all the travel? InterWorks looks for every opportunity to share their Tableau knowledge. As a Tableau Gold Partner and Tableau's 2013 North American Partner of the Year, they're always on the front lines when it comes to improving the Tableau community. The Tableau 8.2 Roadshow is another chance to continue their mission of making the data world a better place.
About InterWorks
InterWorks is a full-service, IT consulting firm specializing in data-driven business solutions. As the first Tableau Gold Partner and Tableau's 2013 North American Partner of the Year, InterWorks boasts one of the largest and most talented teams of Tableau consultants in the world. InterWorks pairs Tableau expertise with the added benefit of being a comprehensive IT infrastructure provider. These competencies, combined with years of multi-industry experience, equips InterWorks with the tools needed to meet any data challenge today.