The Evolution of InterWorks Assist
InterWorks Assist was launched back in 2016 for clients who needed quick, personal attention to their requests via email. As the offering continued to grow, we thought about how we could make it even easier for clients to access our experts.
Introducing Assist Now – the live chat tool that instantly connects you to an InterWorks consultant when you need support. You don't have to choose between quality and speed when you're in a pinch: Assist Now gives you both.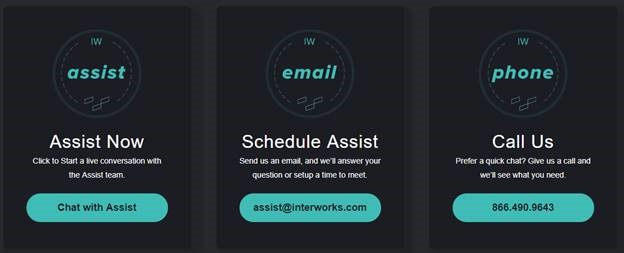 Our new Assist platform provides three ways clients can reach our experts:
Assist Now | Our newest feature allows clients to access instant support.
Schedule Assist | The original method of communicating via email to submit challenges or schedule working sessions is still available and reliable as ever.
Call Us | Sometimes you don't have a question that involves viewing data or charts. Give us a ring and we'll help you out.
What Existing Clients Are Saying About Assist
"InterWorks has been invaluable since we implemented Tableau as our global reporting tool over our three divisions. InterWorks' staff knowledge of Tableau has proven second to none, with even the most complex report guidelines met swiftly, typically with multiple solution options. Support response is very quick, many times available same day, or even immediately at times. Time as a resource for me can be extremely limited at times, and InterWorks has saved our organization many hours of research and trial and error for Tableau report solutions. We very much value their expertise and expect to continue our relationship into the coming years."

– Director of Information Technology
"The Assist team has been extremely helpful. We worked on some pretty complex joining logic to consolidate a variety of disparate data sources for a pivotal Tableau dashboard that is now distributed across the company. The team members really helped me improve my Tableau capabilities, which has been critical for me given how fast-paced of an environment we operate in. I think the Assist team is very good at quickly understanding clients' needs/questions. Would definitely recommend working with them."

– Senior Associate
To see some actual questions that have been submitted from our Assist clients, hop over to our "Advance with Assist" blog series.
How You Can Access the New Platform and the Experts
The Assist platform provides clients with access to InterWorks' solutions architects, data engineers, analytics consultants, training specialists, server/IT experts and Alteryx developers. Support ranges from troubleshooting in specific tools (Tableau, Alteryx, SQL, portals, etc.) to dashboard design and developing a project wireframe. Through the Assist platform, clients can connect with InterWorks consultants remotely from any global location.
InterWorks Assist is managed on a quarterly basis with our clients. We would love to chat more about its benefits and use cases with you. Your time is too valuable not to have the Assist team in your back pocket to help you succeed, no matter how big or small the task.