Last week marked the 10th anniversary of the iPhone. Over the holiday weekend, I decided to share a deep-dive into my current iPhone setup.
Do you remember when you first saw the iPhone? I do. I remember watching Steve Jobs' worldwide presentation and was excited about the potential of having a computer in my pocket.
While I was immediately sold on Apple's vision, my first smartphone was a Samsung. The Android world is also fun and interesting, but a little unreliable if you try out many different apps, like I do. My experiments resulted in my Android phone overheating and crashing frequently. To fix my self-inflicted issues, I had to wipe the phone and reinstall apps. Not fun. 
My first Apple purchase was the original iPad in April 2010. The iPad was the couch, web-surfing tool that I had dreamed of having since the mid-1990s. Once I had the iPad, it was just a matter of time before I had to buy an iPhone and a MacBook Pro. I do a lot of writing and I found the Apple writing app ecosystem is superior to Windows. 
Apple provides power and simplicity. Both the first and second editions of Tableau Your Data! were written on OS X and iOS text editors (Scrivener and Ulysses). My iMac screen is so huge it eliminated the need for a second monitor on my desk. Plus, Tableau dashboards look awesome on my OS X and iOS devices.
Crashes Are a Rare Event
I'm not going to say that my iPhone is crash-free, but it rarely happens. I have never experienced an overheating problem on my iPhone because of some misbehaving app. Occasionally, I'll install one that drains my battery. Sometimes I'll pass notifications and updates to my iWatch, which causes the watch battery to drain, but iOS is generally reliable. 
My Main Screen
I work out of my home office or at client locations and have done so since the late 1990's. My iPhone is my office. 
The positioning of app folders and applications on my screen is generally by usage. Apps that I use frequently are positioned on my iPhone 7's screen so that I can easily reach them with the preferred finger. Google Maps is a right thumb away. Google search is a left index finger. I use LIFX lights in my home and a single firm press on that app exposes the controls I use daily. The standard Apple Clock app is my daily alarm clock.
Things3 is a recent addition that replaced Omnifocus. I prefer its more minimal approach. Things3 seems to sync more reliably across platforms. I also love the "Upcoming" view where it deploys all my scheduled meetings and "to do" items for the following week.
Drafts is my go to writing and note-taking application for iOS. I can't overstate the utility of this program. Drafts allows me to compose anything and then publish that writing to any other app, web service or email. I use it to stage tweets, which I then post on Buffer, a scheduling app. Drafts is where 90% of my iOS note-taking and writing begin. Safari is my primary browser, but I do use Google Chrome for company applications, such as our time entry system. Fantastical is my calendar app.
The Handy folder at the bottom left of the screen contains other frequently-used apps:
The Top Row of My Screen
This contains my most frequently used buckets of applications for productivity (writing), travel and social media.
Productivity
Travel
I've done a lot of traveling and the iPhone has made everything about travel easier. 
I have two more screens of other travel-related apps for specific things.
News
This pertains to almost all my news, periodical and RSS feed reading I do on my iPhone or iPad.
This area is the most time-consuming use of my iPhone and iPad. I'm normally up every morning between 4:30AM – 5:30AM reading my RSS feeds and buffering tweets.
Social
My primary daily iOS workflow is read articles, write tweets in Drafts then move those drafts to Buffer for posting to Twitter or other social media outlets. I'm not a big fan of Facebook on my phone as it is much too intrusive and memory hogging. It's not installed on my phone anymore.
Finance
Everything to do with managing money.
Food
I use this to research restaurants and book reservations.
Reference
All my writing and math-related reference materials.
Design
This is a grab-bag of design-related apps or links, mostly related to architecture or home organization.
Houzz: Home design and decor.
Houseplans: Huge collection of house plans for sale.
KonMari: The official app for the Konmari method.
The other links in this folder are to websites that offer some kind of design-related content.
Photo
I'm ridiculous when it comes to photo apps. The collection is constantly rotating.
Movies
All video, TV and movie apps.
Health
Activity and calorie analysis.
Books
I use my iOS devices for all my reading. I'm to the point where I really don't like holding a regular book. I've also found apps for exporting book highlights and notes to Evernote for reference.
Browse
Password control and alternatives to the Safari browser.
Shopping
I'd rather click than go to a store. The only exceptions are book stores (I love old ones) and Apple stores (they are works of art).
Utilities
I use a variety of apps for managing my home mesh network, storing personal and work files in the cloud, plus system health monitoring.
My Second Screen
All my recent webpage views that I want to view later go on the second page of my iOS devices. Icons are constantly rotating on and off this screen.
Notification Screen
Accessed via a swipe to the right from the main screen.
Activity: To monitor calorie burn, exercise and standing.
LIFX: For turning lights on and off quickly.
Things: Current to do items.
Calendar: My next appointment.
I enjoy having all four of these apps in view with one swipe.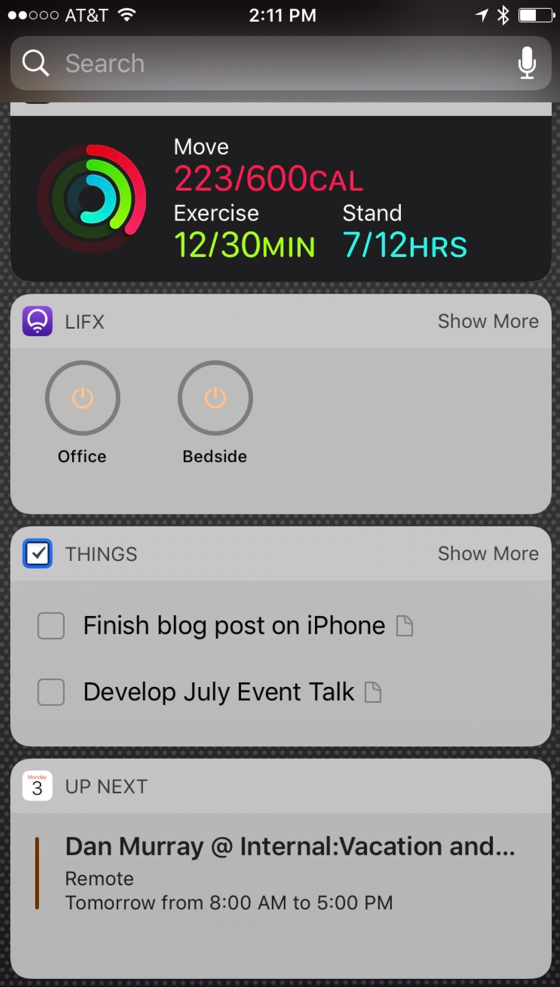 My Lock Screen
The lock screen on my phone includes my favorite InterWorks promo image.
My iWatch
I really love the iWatch. It's great for quick text messages, timing my coffee brew, tracking my activity and reading news headlines. I use three different watch faces:
My primary face is Modular (Left), with the battery monitor, pedometer+ and timer complications on the bottom. I enjoy monitoring weather conditions and the forecast with the date and time.
The activity analog face (Middle) is my second favorite. I like the analog-style watch with the date, timer and battery life complications.
The Utility watch face (Right) is my "formal" one. I have the activity complication across the bottom with the temperature and battery monitor complications on the top. Day and date are also displayed.
I have a fancy expensive watch that I rarely wear. I prefer the flexibility of the Apple watch much more and I've never had problem with battery life. Maybe I'll sell that watch to fund my next iPad purchase.
Future Plans with iOS
I plan on upgrading my iPad in the fall. The new iPad looks like it will have a significant upgrade when iOS 11 is released. After that, I'll wait to see if the iWatch Series 3 offers any kind of improved performance or capability. If it does, I'll be upgrading my iWatch as well.
Apple recently announced that they have sold over one billion iPhones since its launch. That's not a surprising figure either, if you consider the growth in apps available on the App Store in the past ten years. Although there were many naysayers when the iPhone first appeared in 2007, the iPhone may be the most significant product of the last 100 years. The iOS ecosystem is huge, varied and fun.
Apple has built a model that has provided convenience and simplicity at a relatively low cost. Latest estimates show there are over 2.2 million apps available for download. Have you discovered some cool apps that you'd like to share? Put your link in the comments.