As another academic year comes to an end, we at InterWorks want to reflect on our collaboration with universities the world over. I personally want to appreciate and highlight the pleasant relationship we've maintained with Maastricht University in the Netherlands over the years.

Above: Maastricht University Logo
First, a little backstory about how I joined InterWorks is in order. While pursuing a master's degree in information management and business intelligence at Maastricht University, my course was visited by alumni guest lecturers from InterWorks. My career-view was blown wide open during the lecture. They connected my course to the real world in an instant. I saw the exact job I wanted to do displayed in an informative lecture by enthusiastic people.
I joined another workshop and the more I heard from InterWorkers, the more excited I became. My (now) co-worker Justus Niemzok created a blog that year on one of the workshops, and I'm just out of frame in the featured picture!
I ended up joining InterWorks when I completed my degree, and I'm honored to continue the alumni lectures (from the other side now) with my co-workers.
An Academic Partnership
We've been involved with Maastricht University for several years — visiting for guest lectures in related courses, brainstorming on the future of their academic programs or sometimes simply providing Tableau workshops. The participating students come from across the world, across business programs and from bachelors and masters alike.
The topics of the lectures range from data visualization best practices, to an overview of the BI landscape in practice, to a day in the life of an analytics professional. Wherever our story helps provide a real-world, practical perspective on BI is where we like to be involved.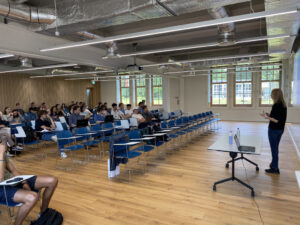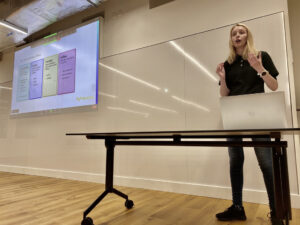 Above: A presentation I did earlier this year at Maastricht
The connection between the educational world and the business world is an important one. Courses should prepare students for the reality of their future career. It should not only match today's requirements, but prepare students for what comes next.
My program at Maastricht, for instance, prepared me with analytical thinking and hard skills, but it has also helped me with preparing case studies, working in new teams every few weeks and the presentation skills needed in consulting. As a result of that variety and applicability my studies, I have a job I love as an analytics consultant at InterWorks.
That role, made possible due to the strong connection of education and business, has been a life changing experience. There is a variety to the people I meet, the challenges I undertake, the tools I use and the projects I complete. Even more, I love being at InterWorks, surrounded by highly capable, super friendly people who share the same passion for connecting people to analytics. Although we work with massive companies, InterWorks is small and anyone can make an impact on how we work and what comes next.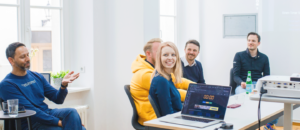 Above: Me with InterWorkers from all over the world in Berlin earlier this year
If this sounds interesting, I'm hiring analytics consultants in the Netherlands for my own team now, but we have positions open around the world!
When We Go Back to Our Roots
Every time we return, the BI world looks a little different. From a consulting view, we're privileged to see a birds-eye view of the industry, both of the present and the future. I'm always excited to share our perspective and support the education of the next generation. But, I also learn something new from student's perspectives on the field, and what they imagine the future to be like.
The programs have evolved over the years as well, with now multiple BI-related programs, courses that teach Data Management, Data Analysis, Data Visualization, through to Machine Learning. It's like watching the future unfold before your very eyes.
Business has something to learn from academics, as well. Together, we form the future of the field. And we learn from each other in different situations, such as the pandemic of the last years, when we had our lectures over Zoom and shared perspectives on working together and educating remotely.
I can only recommend nurturing the connection you have to your alma mater, or reconnecting to share your business-world perspectives. As an institution, reach out to your friendly neighborhood InterWorker or alumni in the industry to share knowledge and shape the future together.
Thank you to the lovely course coordinators, students, and staff at Maastricht University for the continuing collaboration. To a lovely break, and a new academic year full of shared learning!