Just last week, InterWorks was named to the Journal Record's "Best Places to Work in Oklahoma" list for another year! As the name suggests, this list recognizes Oklahoma's top employers. Winners are determined through a combination of employee satisfaction surveys and a benefits questionnaire. Claiming such an honor is an achievement in any year, but it's especially resonant in a year like 2020. Adding to that, this year marks the tenth consecutive year InterWorks has been named to the list. A whole decade!
"The tech world is one defined by constant change, so it's nice to know that some things, like how you treat others and giving your team the freedom to do work they love, remain timeless in their effectiveness. When you're a people-driven company, what your people think of you means a lot. We're glad that we continue to be true to ourselves."
– Behfar Jahanshahi, CEO, InterWorks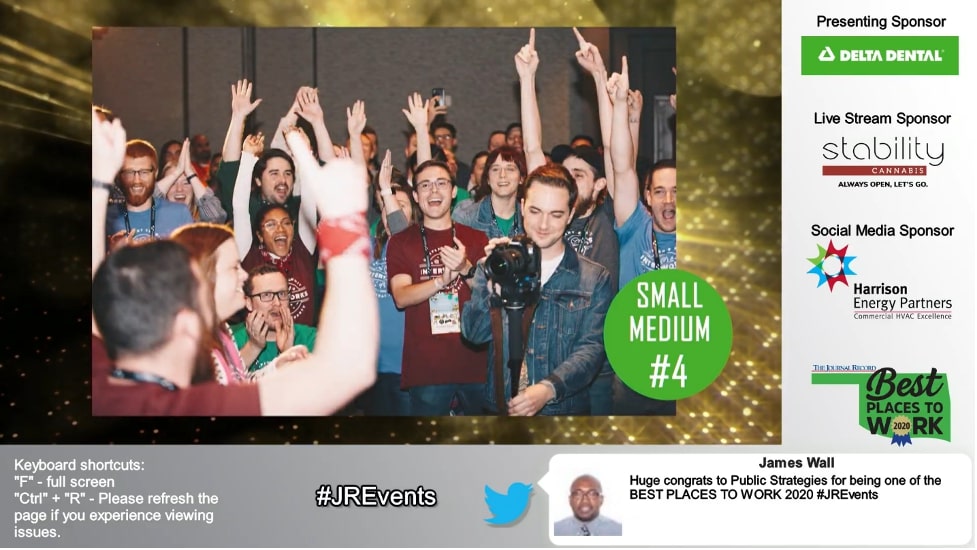 Above: InterWorks announced in the #4 spot during the virtual awards ceremony.
Cheers to Ten Years!
Whenever we win an award, we usually like to list the reasons why we feel interWorks is such a special place to work, and there are many! We love the work we do, we have the privilege of working with amazing clients around the globe, we always have fun, etc. All of these things are manifestations of our company culture, but they're not the determining factor in our success. What's funny is that our secret ingredient isn't really a secret at all. The reason we're successful is because we employ great people and let them lead the charge.
With enough great people empowered and working together, we truly believe there is no limit to what you can achieve. This is how a small startup-like consulting company in Stillwater can grow to be one of the most trusted names in data consulting worldwide. We're proud of what we built, but we're prouder of the people who have built it. That's all we have to say about that!