It's that time of year again, but this year InterWorks is going bigger and bolder! We cannot wait to hit Tableau Conference on Tour London and Berlin 2017 (TCOT to you veterans), and hope to see a lot of old and new faces there. As a GOLD sponsor, not only will we have our own booth, but we will be sponsoring the Social Media Hub! Stop by to get your pics done and have all the latest conference news streamed through the many mediums.
As Tableau Training and Consultancy Partner of the Year, we are bringing a wealth of Tableau expertise to the event. Come meet our team of experienced consultants who will be happy to chat. Bring your challenges with you and book some time with them.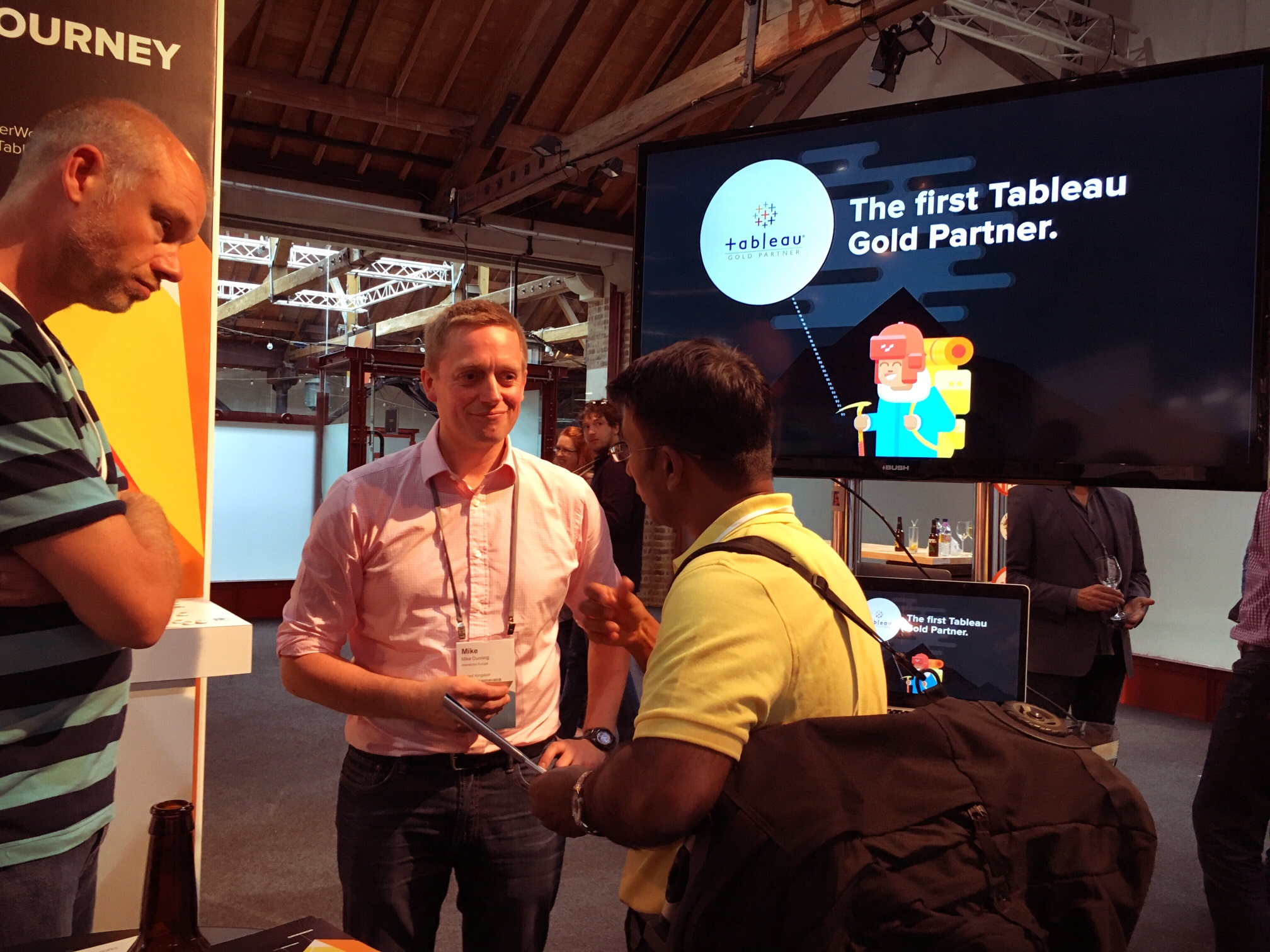 Above: The InterWorks booth at last year's TCOT.
Discover the Buzz Around Power Tools for Tableau 
Maybe you've heard of our acclaimed Power Tools for Tableau, or maybe you're entirely new to them. TCOT is the perfect opportunity to see them firsthand. We are so excited to be demoing the range of Power Tools that have been designed for any level of user to get the best experience from Tableau.
Come and talk with us about:
Power Tools: Desktop – It's the Swiss Army Knife of Power Tools! With Power Tool: Deployment, you can rest assured your Tableau workbooks have the highest level of consistency in design and performance. 
Power Tools: Server – You can now sift through all the noise and target exactly what is causing slow load times, extract failures and other critical server issues.
Power Tools: Deployment – When you use Tableau in the enterprise, you get a lot workbooks, and we mean A LOT. You also get different environments in which those workbooks reside. Moving all those workbooks around can be hassle. The Enterprise Deployment Tool for Tableau (EDT) makes that process a piece of cake. With it, you can promote workbooks from one environment to another in a matter of minutes!
Portals for Tableau – Don't let your hard-earned dashboards wither in obscurity. Developing an internal marketing plan that introduces users to relevant, easily accessible dashboards is essential to user adoption. A Tableau portal from InterWorks is the perfect catalyst for such a plan.
If you can't wait until TCOT, then visit the Power Tools home page for more information.
InterWorks' Customer Story
We are also excited this year to have Ella Worsdale, the Head of Information at Pennine Care NHS Foundation Trust. She will speak on how Tableau has revolutionised their organisation. Join her for the session:
"How Tableau changed our information culture and persuaded healthcare staff to engage with data."
Learn how Tableau can be implemented at pace in a challenging healthcare environment combining data from over 15 different clinical and corporate information systems. Moving from static Excel reports produced on a monthly basis, to providing live data through Tableau to over 600 users, allowing them to make instantaneous decisions and help to improve health outcome.
Learn More & Stay Tuned
Head to Tableau's official conference page for more info on the event. If you haven't already registered, it's not too late to attend!
One last thing! Be sure to watch this space as we get ready to launch our TCOT 2017 schedule…in Tableau, of course!