STILLWATER, Okla. – InterWorks, Tableau Software's largest global services provider, announced plans to present alongside Facebook during their customer session at the 2013 Tableau Customer Conference. The conference held Sept. 8 – 12 in Washington D.C. allows Tableau customers from across the world to share insights and success stories surrounding the data visualization software. InterWorks's customer session entitled, "InterWorks: Data Discovery at Facebook: Why Culture & Flexibility Matter for Modern Analytics" dives into Facebook's development of a data-driven company culture.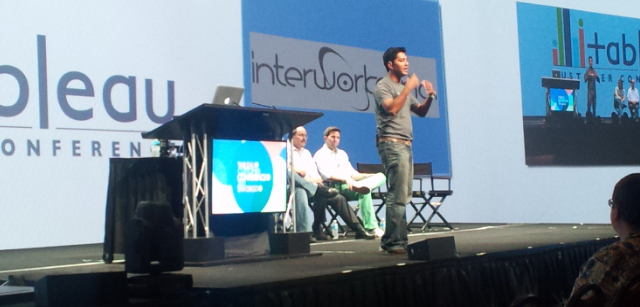 Above: Facebook's Namit RaiSurana presenting with InterWorks at TCC12
Many in the data visualization field may remember that Facebook and InterWorks put on a similar session at the 2012 Tableau Customer Conference. This year's session is not only a continuation of what was presented last year, but an expansion on how Facebook's data culture has quickly spread across the entire organization. This year's session brings with it entirely new insights into how the world's largest online social network is utilizing Tableau to meet their goals.
What: InterWorks : Data Discovery at Facebook: Why Culture & Flexibility Matter for Modern Analytics 
Where: Gaylord National Resort & Convention Center | 201 Waterfront Street, National Harbor, Maryland 20745
When: September 11, 2013, 11:00 a.m. EDT
Who: Facebook Data Visualization Guru, Andy Kriebel; Facebook Recruiting Analytics, Heather Torres; Facebook Business Intelligence Engineer, Cyrus Dukart; InterWorks BI Consultant, Mike Roberts
Building Upon an Open, Data-Driven Culture at Facebook
InterWorks' customer sessions, both this year and last, are based on work performed by InterWorks at Faceboook. Before InterWorks came along, Facebook saw the need for fast insight into massive amounts of data that could be shared with numerous people. An open data culture had long been present within Facebook, leading them to seek the best way to maximize their data discovery potential. It wasn't long until Facebook decided that Tableau was a great fit to help them fulfill their rapid visual analytics needs. 
Given InterWorks proven track record of client success with Tableau, they were an obvious choice to implement the software throughout Facebook. Facebook's open data culture, paired with InterWorks' implementation of the right data architecture, expert training with Facebook Data Visualization Guru, Andy Kriebel and emphasis on user adoption has opened the doors to a modern era of data analytics. Equipped with unbridled control over their data and rapid speed to insight, Facebook is ready to show the world, in true social fashion, everything they've learned using Tableau.
About InterWorks
InterWorks is a full-service, I.T. consulting firm specializing in data-driven business solutions. As the first ever Tableau Gold Partner, InterWorks boasts one of the largest and most talented teams of Tableau consultants in the world. InterWorks' pairs Tableau expertise with the added benefit of being a comprehensive IT Services provider. These competencies, combined with years of multi-industry experience, equips InterWorks with the tools needed to meet any data challenge today.