Please note that Portals for Tableau are now officially known as Curator by InterWorks. You can learn more at the official Curator website.
Not only are Portals for Tableau useful to the people inside your company, they're also great for sharing information with your partners, customers and any other stakeholder you may have outside of your company.
One way that portals have become a go-to product for sharing with anyone, or everyone, is that they have always provided a way to white-label your analytics. Whether you don't want people to know your secret weapon is Tableau, or you use multiple reporting platforms and need a tool-agnostic place for your users to go, Portals for Tableau is up to the task.
This is the point in an infomercial when the host would say, "but wait, there's more!" This is a blog post, not an infomercial, so I won't do that, but you'll know I wanted to in my heart … moving on!
Introducing New Group Override
Many of our portal clients have asked if there's a way to customize the portal based on who is logged in at the time. An example is a company selling analytics to their clients through their portal, where the clients would like to see their own logo and color scheme when they log in. The answer to whether the portal can do that has always been "yes," but it was a manual process to set up.
Portals for Tableau now has a new feature which makes this process as painless as cutting a tomato with a knife on sale for $19.99, plus shipping and handling (act now and you'll get two for the price of one). Many different portal settings, including logo and colors, can now be customized on a per-Tableau user group basis.
To override settings for a certain group, navigate to Settings > Frontend Group Overrides > New Group Override in the backend of your portal. From there, you'll specify which group you want to override the settings for, and then customize the settings as you desire.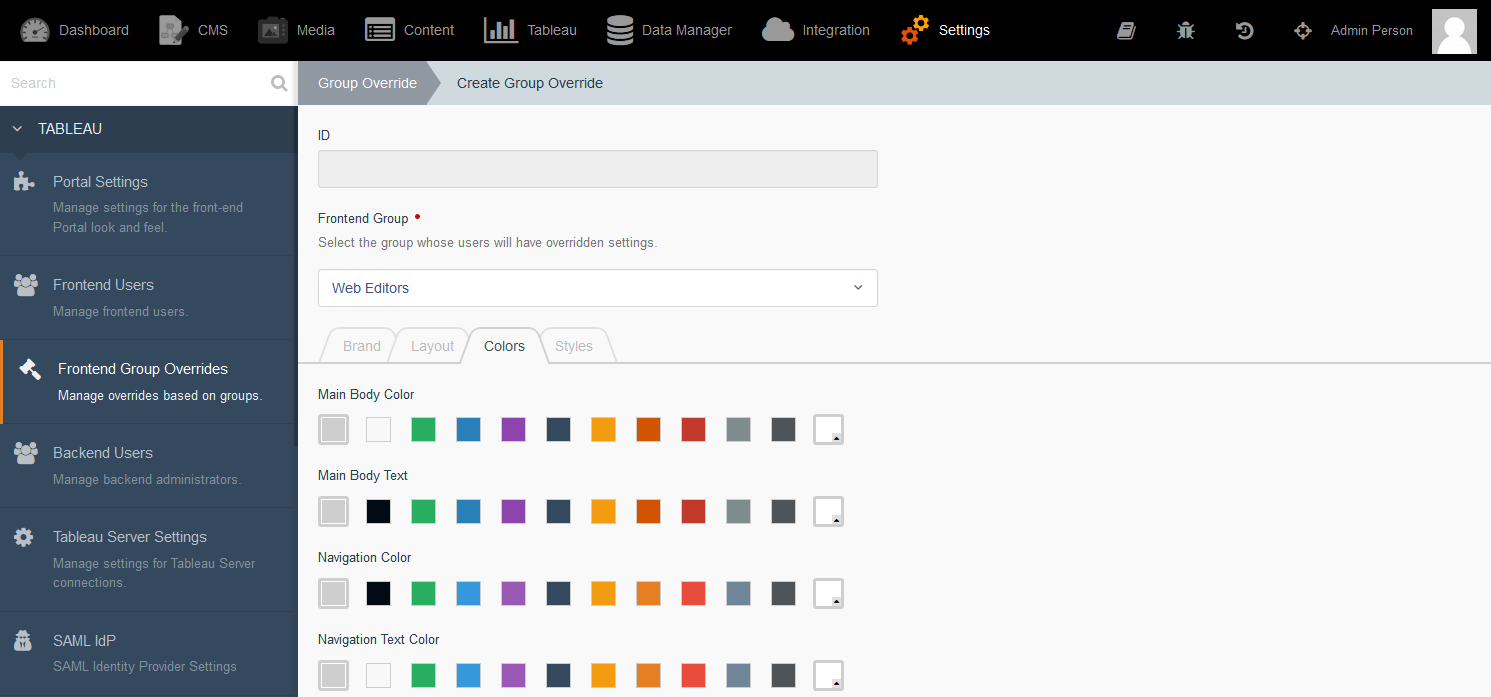 Once you save, any user that logs in with that group will see the overridden stuff instead of the global settings.
So, instead of seeing a default look and feel like this:
Your users can see one tailored to their color scheme like this:
Or even something completely different like this:
Even though operators are standing by, you really only need to update your portal to the latest version to take advantage of the new and yet somehow also improved functionality.
The preceding has been a commercial advertisement of Portals for Tableau's new feature spotlight. The views and opinions expressed in this article are those of the author but also may reflect the official policy or position of InterWorks and its subsidiaries.