InterWorks EU is returning to the world's largest IT exposition, CeBIT. InterWorks EU joins data visualization giant, Tableau Software to demonstrate the power of cutting-edge visual analysis in Tableau. Both InterWorks and Tableau will be at the ready to provide demos and answer any questions attendees may have surrounding Tableau consultancy and training.
Another Landmark Year for Tableau, InterWorks
Tableau has been nothing short of brilliant over the past year. The release of Tableau 8.1 has taken the software's capabilities to soaring new heights. The highly-anticipated Tableau 8.2 is expected to continue this pattern. This excellence has not gone unnoticed. Gartner, a top technologic research firm, heralded Tableau as the BI and analytic leader in their 2014 "Magic Quadrant for Business Intelligence and Analytics Platforms".
While Tableau continues to make strides in data analysis products, InterWorks EU has done so in Tableau and data services. Most noticeably, InterWorks EU was InterWorks UK at last year's CeBIT. True to the change of name, InterWorks EU has shifted their focus to include the whole of Europe.
About CeBIT 2014
CeBIT 2014 brings the best and brightest technology vendors from across the globe together for five days of innovative gadgetry, engaging sessions, and extensive networking. Held at the Hannover Exhibition Grounds in Hannover, Germany, CeBIT 2014 will be the staging grounds for the latest technologies, best practices and success stories for the upcoming year. To find out more about CeBIT 2014, visit the official event page.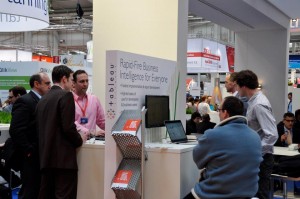 About InterWorks EU
InterWorks EU is a full-service, data consultancy firm specializing in data-driven business solutions. Maintaining Tableau Gold Partner status, InterWorks EU boasts world-class Tableau consultants serving the UK, Europe, and beyond. Through the combined power of Tableau and years of analytical expertise, InterWorks EU is well equipped to meet any data need.