After spending the past few months tallying votes, okc.BIZ recently announced the winners of their annual "Best of Business" competition! The competition recognizes Central Oklahoma's best businesses across a number of industries. Wouldn't you know it, the winner of "Best Information Technology Company" went to InterWorks yet again! That makes this the fifth straight year we've earned this honor, and we couldn't be more thrilled.
"To be considered Oklahoma's top IT and data services provider for half a decade is incredible," said InterWorks CEO Behfar Jahanshahi. "The credit goes to our talented team. Each day they come into work with the ultimate goal of absolute client satisfaction. Of course, having great clients like ours makes fulfilling that commitment a real pleasure."
Decided by the People
The competition setup is quite straightforward and decided online by popular vote. The only requirement is that the candidate businesses be based in Oklahoma. Voters select their favorite businesses in each industry, and the businesses with the most votes in each industry are designated as the winners. Voting took place over the course of a few months towards the beginning of the year, and the winners were announced earlier this week at an awards banquet at the National Cowboy & Western Heritage Museum in Oklahoma City.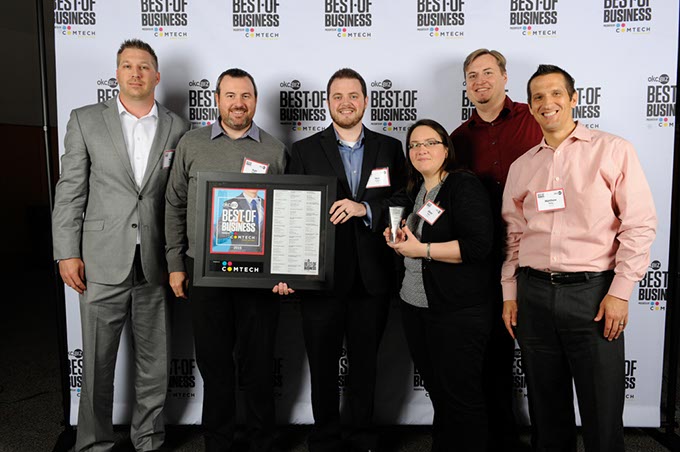 Above: Team members from InterWorks' OKC office posing with the award.
The Truth Behind Our Success
If you've followed InterWorks for some time, you know we highlight things like organic growth, our unique company culture and keeping clients happy no matter what. There's no denying that all of these things contribute to our success and reputation, but the secret sauce behind all we do is something much simpler. In fact, it's no secret at all. It boils down to two things: hard work and a constant desire to be better.
Those two characteristics form the foundation of everything we do. It's what we look for in the people we hire, it's what we think about when defining the scope of our IT and data offering, and it's what we apply in every solution we deliver. It's not an easy road to travel, and it comes with its share of challenges, but we welcome each challenge as an opportunity to grow. The results have been nothing short of astounding.
We've developed lasting client relationships, we've attracted the most talented employees across the globe and we've grown beyond anything we could've imagined when we first opened our doors. 2015 marks another landmark year of these principles in action, and being recognized in "Best of Business" yet again tells us that what we're doing still works. We're just getting warmed up at that.
Head to the 2015 "Best of Business" winners page to check out InterWorks and the full list of honorees.