STILLWATER, OKLA – Inc. Magazine recently unveiled the "Inc. 5000 Fastest Growing Private Companies" for 2013. InterWorks earned the No. 2,161 spot nationally and also ranked No. 18 among companies based in Oklahoma. Within the IT Services industry, InterWorks placed No. 297 out of 700. This is the sixth consecutive year in which InterWorks received the honor of being named into the Inc. 5000.
 "Making the Inc. 5000 just once shows a company's growth potential," said InterWorks CEO, Behfar Jahanshahi. "Being named to the list six years in a row proves you're committed to transforming that potential into something special. I feel InterWorks is doing just that."
Each year, Inc. 5000 rankings are based on percentage of total revenue growth over the past three years. InterWorks enjoyed a three-year total revenue growth of 172%.
For the complete Inc. 5000 list, visit the official Inc. 5000 page.
You can also view InterWorks' full profile page, featuring rankings from previous years.
A Commitment to Growth
While Inc. 5000 measures success through three-year total revenue growth, InterWorks continues to grow in a variety of different ways. 2013-2013 has been an especially significant growth period for InterWorks.
Last August, Tableau Software named InterWorks their first ever Gold Partner for their comprehensive Tableau offered across the world. InterWorks built upon that by acquiring UK consulting firm, The Data Studio, strengthening their foothold in Europe. Since 2012, InterWorks even added 17 new domestic jobs across the U.S. All of these factors have transformed InterWorks from a regional I.T. Services provider into a global data consulting firm.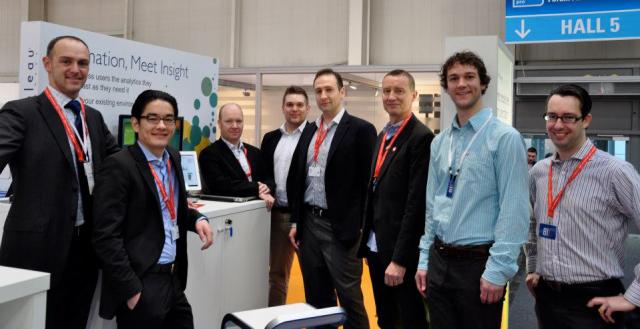 Above: InterWorks UK at CeBit 2013 in Hanover, Germany. CeBit is the world's largest IT conference.
InterWorks' success can be measured on all fronts, showing a well-balanced commitment to growth. Such sustainable growth is what continues to garner attention through various awards and honors such as the Inc. 5000 list. Considering all the events and big changes over the last year, InterWorks has all the pieces necessary to grow faster than ever.