Last week I had the pleasure of attending Tableau's 2nd Annual European Customer Conference in Barcelona. I'm often asked by clients and partners alike about my experiences at these events. Aside from the opportunity to explore beautiful locations and enjoy face to face time with some of our wonderful European clients, I've always come away refreshed and full of newly acquired knowledge. This year was no different. I'm convinced more than ever the process of clearly seeing and understanding our data – the mission behind Tableau – is one of the significant challenges of our lifetime. Given the positive impact these events have had on me the last couple years I thought I'd share with you some of the compelling reasons I find they are well worth the time and financial investment.
InterWorks – Start of Conference
1. You get to meet the data ninjas behind the scenes
What better reason to attend than to get to meet those responsible for Tableau? Not only do Christian Chabot (CEO & co-founder) and Chris Stolte (CDO & co-founder) each give a keynote at every conference they also make themselves available throughout the entire week. Whether you're at breakfast or wandering the halls during a break between sessions, you'll be hard pressed not to find them fully engaged with a customer, learning about their data story and how they can improve Tableau to further help make a difference in their day to day lives. 
In addition to Tableau's leadership team, you'll find plenty developers and data analysts each there to answer any questions you may have no matter how simple or complex.
Christian Chabot & Tableau Team
2. Learn what others are doing throughout the world, across various industries
It's easy to get lost in the details of the day to day. At times, it's refreshing to take a step back and see what others like yourself are doing with their data and Tableau. Each day is broken out into multiple sessions that fill the gaps between an early morning and afternoon keynote from industry superstars. Some sessions are centered around industry best practices while others are customer stories presented by the customers themselves. This year InterWorks had the pleasure of sponsoring one of our European customers – Europol – providing them the opportunity to share how they leverage Tableau to help fight crime across Europe.
Europol and InterWorks Customer Story
3. Learn from industry professionals
Alongside customer stories are sessions focusing on industry best practices delivered by Tableau developers and partners from around the world. You can learn more about fast storage through partners like Teradata and Vertica, the secrets behind Tableau Server optimization from the professionals who help shape the product and even how to optimize your dashboards for better performance using Tableau's generated log files.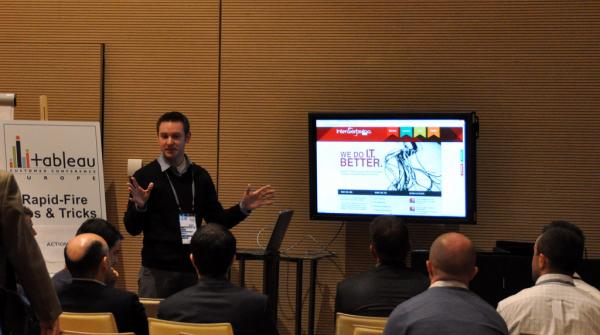 InterWorks Rapid Fire Tips & Tricks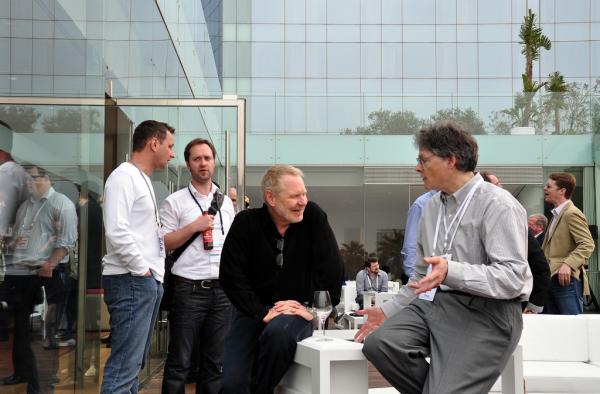 Data Talk with Industry Experts – Stephen Few & Jock Mackinlay
4. Find out what's coming next
And finally, my favorite – finding out what's coming next. True to last year's form, Tableau announced a handful of items to look out for in the coming months, some of which include:
Native Android application  
Direct connection to SAP BW
Support for Spanish & Portuguese
Support for multiple customized views
Even easier sharing in Public
The opportunity to see new functionality demonstrated by the professionals who helped shape the product has always been one of my favorite moments of any customer conference, and Tableau's dedication to constantly improving their product once again shines through. For those of you unfamiliar with Tableau's release cycle, each year typically produces both a major version release along with a minor version release. The European conference typically highlights features coming in the next minor release while the US conference showcases the major release. That's right, an Android application is Tableau's idea of a minor release. This is on the heels of unveiling the iPad application during last year's conference.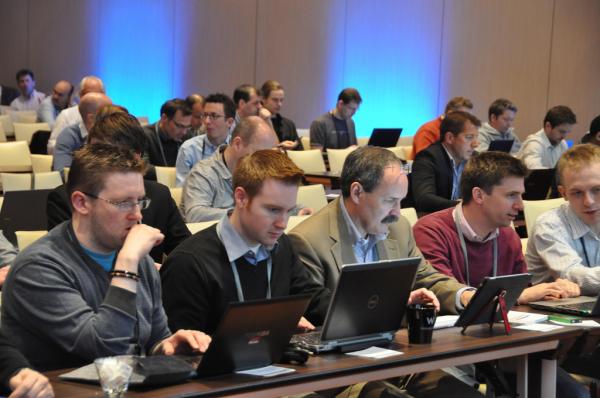 InterWorks at Keynote 
Chris Stolte – Keynote
InterWorks at Keynote
Above all else, each conference gives you the ability to connect with your peers and build relationships with those you may only get to interact with digitally otherwise. So whether you're a newcomer or a conference veteran, stop us when you see us roaming the halls. We'd love to hear your data story. Your next opportunity is right around the corner.
For more information about Tableau Software, visit: www.tableausoftware.com
A special thanks to Giedre Aleknonyte (@googlea) for capturing and sharing the event photos used in this entry. More photos can be found on her Flickr site.