Now that I've recovered and am fully awake from my overdose on data, I thought I'd share some follow-up thoughts on TC14. I primarily want to talk about some of the exciting new things Tableau announced as features coming down from R&D. I'm also announcing a new regular blog series called Tableau Tuesdays, with this being the very first post.
Everything started with a keynote speech from Tableau's CEO, Christian Chabot. During his speech, he identified four key areas that Tableau wants to focus on going forward:
Experimentation
Speed
Expressiveness
Control
He also announced that in the next two years, they will be investing more in R&D than in the previous 10 years combined working up to Tableau 8. That's pretty exciting stuff. I can't wait to see what else they release, but lets focus on what we know thus far across several distinct areas.
Above: A packed audience for the TC14 keynote speech. 
Visual Analytics Improvements
Tableau's CDO, Chris Stolte, presented about visual and UI improvements we will see in upcoming releases:
Type-in shelves – These will allow us to type in or drag fields from the Data Window onto shelves. Imagine clicking in the Column shelf and typing in your field name, no drag required.
Freeform calculations
New calculation editor interface
Drag-and-drop analytics
Instant reference and trend lines
Interactive table calculations – When table calculations are added or when things are clicked in the editor, results are shown on your viz. This allows you to see if what you've selected is correct.
Lasso & Radial Selections – These are probably my favorite UI improvements. These selections allow interactors to select points in shapes other than just a square. In Stolte's keynote, he used a map as an example. He only wanted to lasso points in a city from the northwest to the southeast, not selecting some along the way. The shape ended up being like a figure eight. This was impressive.
Performance
Tableau's VP of Product Development, Andrew Beers, presented on performance improvements, specifically regarding processors:
Parallel Processing – We've asked for this for long time, and it appears our call has been answered. Queries in the demo were loading up to four times faster than in 8.2. 
Vector Operations Control
Geographic Updates – When panning on a map, Tableau will now automatically load the map tiles. The pesky loading box no longer appears, giving a more fluid user experience.
Persistent Query Cache – Server is getting smarter. Queries that are frequent will now be cached, allowing multiple people to simultaneously access dashboards. This gives greater support to a higher number of users.
Data Preparation
Tableau's Senior Director of Project Management, Marc Reuter, presented new and more powerful data connections:
Web Data Connector
Improved Data Connections
Split option
Unpivot the data
Unstructured Excel workbooks can now be connected
Tableau has gotten smarter around bringing in unstructured data. Funky headers now don;t have to be deleted before connecting. Tableau will analyze a file and give you data without the mess.
Storytelling
Tableau's VP of Visual Analysis, Jock Mackinlay, presented new features related to Story Points and storytelling in general. Users will now have more control over Story Points. Currently, the tabs are static, un-modifiable and don't always fit the story you are trying to tell. In a future release, Story Points can be moved, fonts changes, color added, etc. All of this will be possible with the purpose of allowing you to tell your story the way you want to tell it.
Enterprise
Tableau's Senior Director of Product Management, Francois Ajenstat, presented new features as they relate to enterprise deployments. They desire to make Tableau more scalable, more resilient and easier to manage. Here are some of areas of focus:
Support for Kerberos and Smart Cards for access
APIs – The Rest API will have all server functions available. New APIs to be announced.
Navigation Improvements – These include breadcrumbs that show you what workbook the view you are viewing is from and a new permissions interface that makes it easier to view and set permissions visually.
Mobile Analytics
Tableau's VP of Mobile Products, Dave Story, presented new features as they relate to mobile analytics:
Native UI – A new UI gives Tableau Mobile a more app-like feel, making it more fluid and easier to use. It's also faster at bringing in thumbnails on the fly from Tableau Server.
Mobile Calculations – Calculated fields are now on mobile. You can also perform tap-and-drag editing and even go full screen in one tap.
Offline Mode and Snapshots – Users will have ability to setup snapshot schedules for use in mobile when no internet connection available.
Project ELASTIC
Newest addition coming to mobile, which is essentially a mobile viz app
Grab data from an email, visualize it, create an image of the viz and email it back out
Very slick design – swipe left to filter out, swipe right for keep-only
Investigate individual records with one tap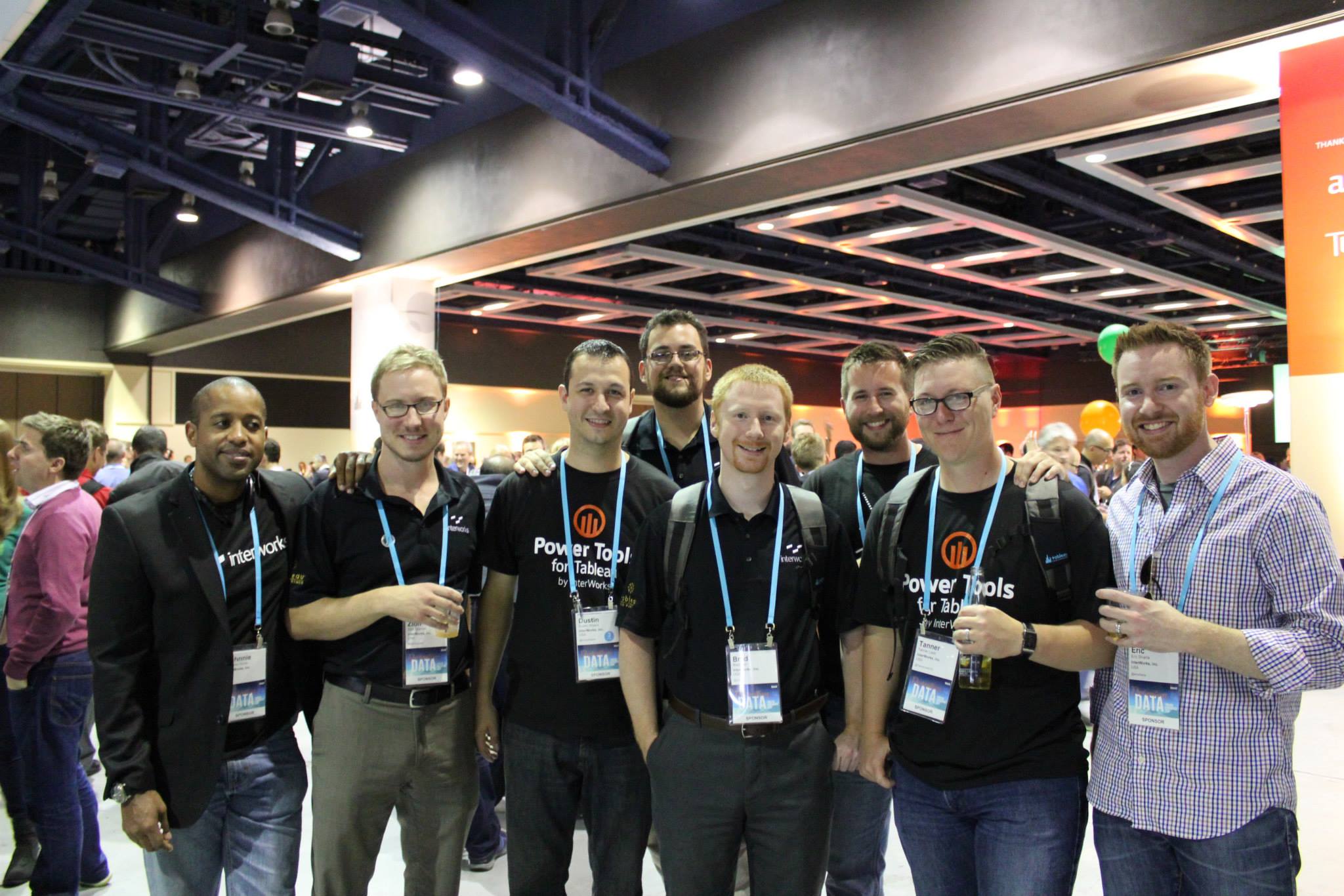 Above: Members of the IW team, including myself, in the Expo Hall.
As you can tell, Tableau has been hard at work researching and listening to customer ideas for their upcoming features. They never tell us everything that's coming, so I'm anxious to see what else is going to be a part of the next Tableau release.
Thanks for reading. Find me on Twitter: @tableauguy, and watch out for more Tableau Tuesdays.