InterWorks continues to experience incredible opportunities in the world of information technology, big data, business intelligence and development, allowing us to evolve into the global company we are today. Our current branding has served us well over the years, but it's time for a new brand that sets the stage for continued forward progress and growth.  
Today, we are excited to announce the change.
How did you come up with that?
Our new logo is indeed conceptual and meant to evoke a wide variety of responses. This effect is intentionally representative of the relationship we seek to hold with our clients.
Above all, InterWorks solves business and technical problems with our blend of talent, experience and partnerships. Our people take great pride in applying this recipe to your business in a way that is unique to each engagement. Disdain of mediocrity in business consulting is our core belief and biggest challenge. It's a challenge that we all thoroughly enjoy, and we pledge to maintain our belief indefinitely.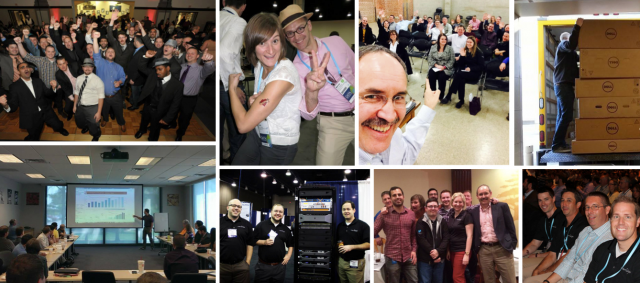 You see, our people love working here because they are challenged daily. They live very near the cutting edge and thrive on every opportunity to dig deep into their natural talents and past experiences to solve puzzles. Because our clients experience this excitement firsthand, often seeing results beyond their expectations, powerful relationships form between client and consultant. Such relationships are unequaled in other business and IT consulting firms.
This unique connection is the foundation of our organization and the inspiration for our new logo:
Our people, our experience, our partnerships – all work together to complete the foundation of your business.
But yeah, it's so much more …
I mentioned that our new logo is intentionally conceptual. The goal is to elicit an understanding according to the beholder's experience with InterWorks. This means we aren't satisfied with just a new logo.
Our use will typically be the primary logo found at the beginning of the article, but the identity plays out in many forms and expressions. We are excited to see this visual form grow over time as we apply the concept in other ways; from its origin in completed foundations, to obvious opportunities in building blocks, stair steps and interconnected network webs.
Simply put, the landscape for unique expressions of our original concept will be a blast for us to work with over the coming years. Speaking for the creative folks in our marketing department, we are ecstatic!
What's next?
In addition to the rollout of our new logo across this website and all other InterWorks properties, along with a full overhaul of all print and traditional collateral, we are actively working on a new website. Our goal is not to simply re-skin the company website that you know today. Instead, we're re-envisioning our company from the ground up and working to provide the right digital representation of who we have become and where we are going.
What do you think of the changes? 
Hit us up on Twitter, Facebook, LinkedIn or Google+ and let us know!