Let's be honest, most things dashboard developers build for their users don't meet those users' needs.
There's a reason Googling "dashboards are dead" can lead you down a rabbit hole compelling enough to sack the whole team and dust off your own SQL skills. What about those BI teams? They use buzzwords like "KPI" and "key insights." They have mounds of data at their fingertips, going round and round in requirement gathering and feedback sessions, only to produce a dashboard that, to their frustration, "technically" meets those requirements but doesn't get used. A few months later, another round of emails asking for a slightly different metric, a crosstab and a button to export the data to Excel.
We have all this data, so why can't we build anything?
What if there were a different way? What if there were a way to build consensus and gain stakeholder buy-in all while building a solution actually alleviates pain points AND doesn't suck?
At InterWorks, we believe being truly data-driven starts with people, not data.
We apply the fundamentals of human-centered design and design thinking to help clarify your business intelligence problems, ideate potential solutions and rapidly prototype these solutions for immediate feedback. Inspired by Google Ventures' Design Sprints, we offer an InterWorks Solution Design Sprint: a series of customized facilitated creative thinking workshops applying these fundamentals to help your team build the right BI solution, faster.
Teams who engage in a Solution Design Sprint can expect to walk away with a better understanding of the problem at hand, how their data can be utilized to address these pain points and what solutions will most effectively meet the needs of key stakeholders.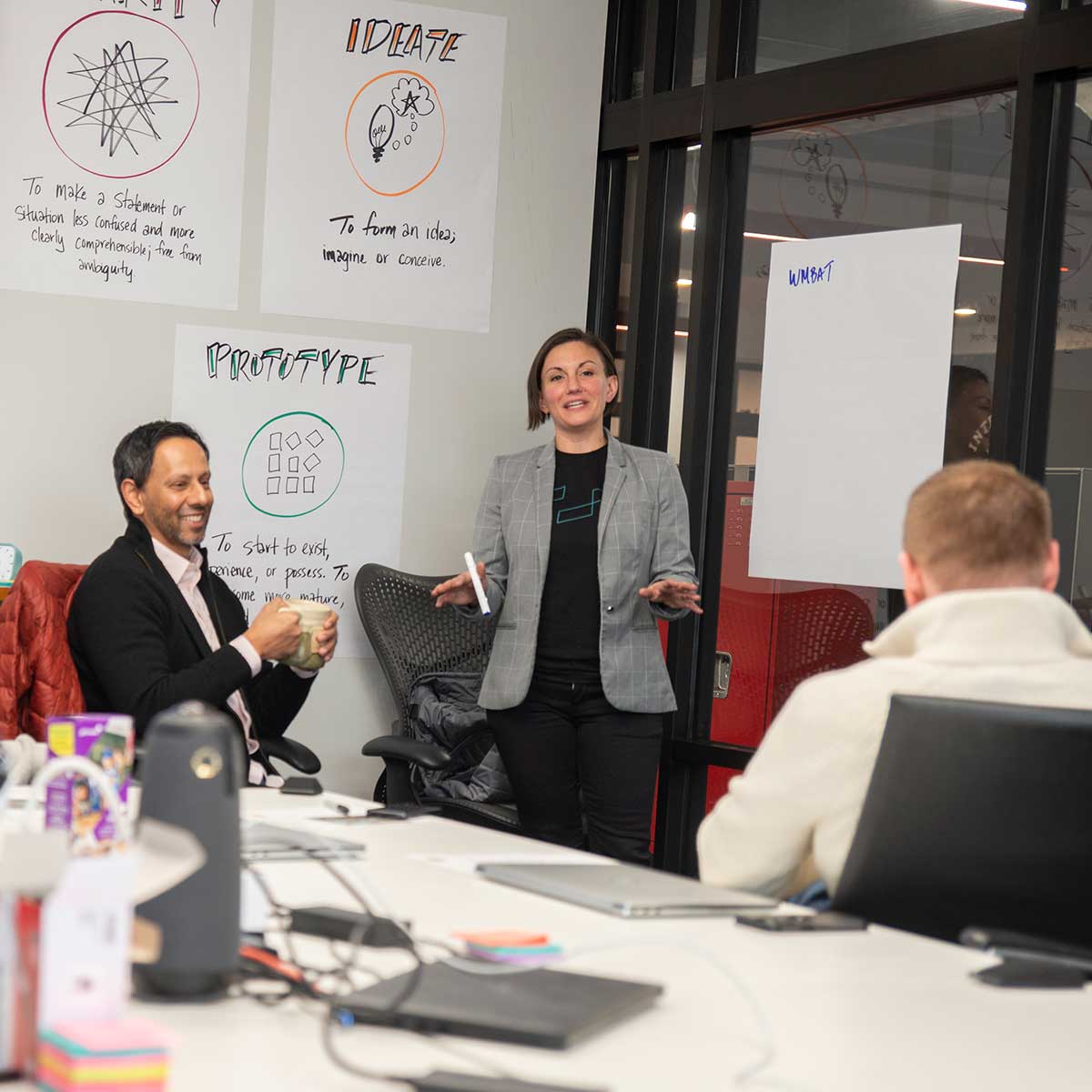 An internal Solution Design Sprint in action.
What Is a Solution Design Sprint?
Our Solution Design Sprint consists of four phases that build upon each other using creative thinking and human-centered design to guide your team towards an achievable business intelligence solution. These phases are split into four to five facilitated virtual* sessions where end-users from your organization participate in exercises catered to your specific business needs and constraints.
During this process, InterWorks architects and consultants will apply their expertise in solution design and all things data to build a representational prototype and proposed roadmap to help your team realize this prototype as quickly and efficiently as possible.
*In-person sprints are also available and typically occur in two consecutive days followed by a final virtual session about a week later.
| | |
| --- | --- |
| | Clarify |
This is arguably the most important phase. During the Clarify phase, we'll focus on problem clarification, pain point identification and articulating the intrinsic "whys" to these pain points. These exercises teach empathy and encourage introspection.
In the past, we would ask, "We have this data, what should we build?"
Instead, we'll now ask, "What are our pain points, and how might our data be used to answer those questions?"
| | |
| --- | --- |
| | Ideate |
In this space there are no bad ideas. Think you can solve your business intelligence problem with pasta? Bring it on! Our creativity experts will guide participants through effective idea generation that avoids all the pitfalls associated with unstructured brainstorming.
With our Problem Statement and goals firmly established in the previous phase, these exercises will guide participants through ideating all their potential hurdles and ideas that might help them overcome those challenges.
| | |
| --- | --- |
| | Prototype |
Humans are visual. During the Prototype phase, participants will be rolling up their virtual "sleeves" to create a mockup or visual representation of our budding solution to guide conversations about refinement and to solicit immediate feedback. Don't worry! Our data and design experts will be there to help you along the way!
After an initial prototype is agreed upon, InterWorks architects and designers will refine this prototype in a format suitable for the type of solution proposed. This might be a more detailed wireframe, visual mockup or even a reference architecture diagram for multi-system solution proposals.
| | |
| --- | --- |
| | Assess |
How do we know if our solution is any good before we decide to build it?
Our final phase builds space for the often overlooked prototype feedback necessary to build consensus and stakeholder buy-in prior to any final decision on solution acceptance. During this phase, InterWorks will present our refined prototype to participants, make any changes necessary and then construct a roadmap for solution development your team can use to be better equipped with the skills and resources required to fully realize this business intelligence solution.
The InterWorks Wombat asks, "What Might Be All The ways you could use your data?"
How to Get Started
Like how this sounds? Save valuable development time and avoid creating business intelligence solutions that miss the mark or go unused by engaging your team with an InterWorks Solution Design Sprint. We'd love to hear your unique business pain points and discuss whether our sprint method would be a good fit for your organization.
You can reach out through our Contact Us page to inquire about starting a sprint. If you're already an InterWorks customer, you can also ask your account executive for more info.