Getting people together can be hard. Getting people together for a work tool virtually and trying to make it both exciting and consistent is harder. In this article, I'll be discussing how the Portland Tableau User Group (PDX TUG) leadership team was able to find a sustainable, enjoyable and successful model for keeping our Tableau User Group community active over the past two years. With this knowledge, we hope others can also build and maintain a successful user group, be it Tableau or otherwise.

Above: The Portland Tableau User Group's logo
My Introduction to the PDX TUG
I've always been intrigued by the Tableau User Group community. On paper, gathering to discuss a product you use regularly at work sounds like many people's worst nightmare. I'd be lying if I said I wasn't a little confused why all my coworkers around the globe were so eagerly involved.
However, after attending TUGs in Indianapolis, Melbourne and Portland, I started to understand the appeal and, dare I say, even began to look forward to the meetings. It's what led me to become more involved in the Portland Tableau User Group in the first place. After making friends and learning about data preparation, visual best practices, natural language processing and more, I can now say I've drank enough Kool-Aid to achieve the title of Tableau User Group Co-Leader of the PDX TUG.
Over the past two years on the leadership team, I've seen many changes and learned about not just Tableau but also the community and the work involved with leading a successful TUG. After plenty of trial and error, I think we've reached an excellent model for a User Group that can exist without those who started it and that sees solid regular attendance (60-80 people) with a high production of quality content.
The Key to Tableau User Group Success
TL;DR, the answer is teamwork. With a small group of leaders who are willing to share the load and help each other, we may have found the key to TUG success.
Our leadership team consists of Chris Williams, Cynthia Maywalt, Jonathan Pape, Ryan Callihan, Jack Hulbert and myself. We span across multiple industries, neighborhoods and interests. We have different skills (Ryan excels at reining us in, Cynthia has the voice of an angel, and Jack could easily be a full-time photographer), but I think our success comes most from everyone's willingness to help: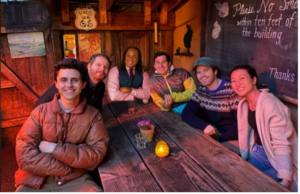 Above: The PDX TUG leadership team
As far as what our leadership team does, we try to schedule meetings monthly, typically on a Thursday afternoon. Every six months, we assign one of the leaders to oversee a meeting. Ryan might get January, Chris gets May, etc. Whoever has the baton for that month is responsible for that month's content. We typically have three sections of our hour-long meeting: an introduction/announcements portion, a community spotlight and a main presenter.
Each meeting is typically emceed by the organizing leader. They will start the meeting, give any announcements and introduce the speakers. We have a running list of topics that we, or members of our community, have expressed interest in. We also keep a list of people who have reached out with interest to present. So long as we keep our eyes and ears open, it can be as easy as picking from a list and sending off a quick email or two!
More Tips and Tricks to Build a Solid TUG
On resources to strengthen a TUG:
Utilize the resources Tableau gives you. We communicate through the Slack instance Tableau has provided for User Group leaders. Kelly at Tableau has also been a wonderful touchpoint, and her weekly TUG office hours are a great opportunity to hear what other leaders are doing.
Watch other TUGs! See what works, find ideas and even reach out to other community members. You can find our TUG, as well as many others, on YouTube.
On finding content:
Don't be afraid to reach out to your favorite Tableau celebrities. They're people, too! It can be a great way for them to spread their brand and market, and you can get some top-in-class Tableau wisdom!
Find people in the community doing interesting work and reach out through LinkedIn, Twitter, etc. Folks love when their work is noticed by others.
On running the TUG:
In terms of branding, the PDX TUG has a logo and PowerPoint template that are easy to work from and look professional and sleek. These make setting up and preparing much easier.
Templatize the meetings. We follow the layout of Intro, Community, then Main speaker. Find what works best for your TUG.
We have found a lot of success in using our shared Boxnote. We post topics for our upcoming meetings, have a section for potential speakers and a list of who oversees what.
Have fun! It's a great opportunity to make friends and learn about other industries, pet projects and hobbies. Remember: it's work related, not work.
If We Can Do It, So Can You
If you're looking for a TUG in your area, you can find it on Tableau's website. If there's no TUG in your area, start one! If you want to see what we're up to directly, we have a Twitter for the latest updates. There's always a way to get involved if you want to be, and if the PDX TUG is any indication, I can say with certainty that the Tableau community would love to see you join.