St. Francis Xavier is a parish of the Catholic church that has been serving the community of Stillwater, Oklahoma, since 1891.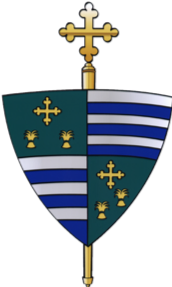 Technologies Used:
Services Used:
St. Francis Xavier is a parish of the Catholic church with deep roots in Stillwater, Oklahoma, dating back to 1891 when the first priest appeared in the area. The first church building was erected in 1899, and the current church building complex was dedicated in March of 2018 and covers over 42,000 square feet on 20 acres.
While the church building has undergone many transformations and changes over the years, the support and service that St. Francis Xavier offers has never wavered. From providing refuge for persecuted Catholics in the early 1900s to continual encouragement supplied during Mass nearly every day, the presence of the St. Francis Church is an invaluable benefit to the community.
Growing Church, Growing Infrastructure
As the church continued to grow, it soon became clear that a new building was needed to best meet the needs of the congregation and city. With two parishes and two different ministry emphases, St. Francis was going to need a more focused solution to improve and streamline networking across all locations.
Previously, St. Francis relied upon members of the church body to assist with IT processes. Without a formal IT partner, congregants with bits and pieces of tech knowledge sought to form a functional network, but this had its challenges. Kendall Hanson, an InterWorks systems engineer and St. Francis parishioner, recommended InterWorks as a possible IT solutions partner, and thus began a conversation around identifying the church's needs and brainstorming possibilities on how they could be met.
Wireless access and improved telephone communication proved two of the biggest needs for the new building. Prior to InterWorks' involvement, the internet was being provided to the church building by a regular DSL link from a local telecom provider. Regarding communication, the church was functioning off of two landlines only, a situation that was not only inconvenient but also limited the growth and scope of how the church's ministry could expand. Transferring calls was difficult, there was no way to route calls if no one was in the office, and there was no auto-attendant feature.
Improving Connections and Communication
Once we identified the present needs, we made recommendations based on building capacity and floor plans. We transitioned St. Francis to Mitel Cloud Connect with both parishes able to share the same plan. This allowed them to split the cost, redirect phone calls if one office were closed and streamline transferring callers to the appropriate person.
In addition to the phone system, we were also able to establish a new wireless solution through Ruckus Wireless, including ten wireless access points to ensure comprehensive coverage. Prior to the introduction of the new wireless system, church staff and parishioners could not rely upon the Wi-Fi due to its inconsistent coverage. When proposing the new system, we also wanted to prioritize security, so we implemented a Sophos XG firewall with web filtering to protect the network and parishioners from objectionable content while browsing the internet.
Other enhancement features of the new IT infrastructure include the ability to access the church's HVAC systems wirelessly, allowing staff to control and adjust these systems remotely. The power of this wireless system was also evident in the connecting of cameras to the network so that services and events could be streamed when necessary, along with providing the ability to remotely monitor the security system.
Benefits in Day-to-Day Operations
New Infrastructure Benefits
Remote security monitoring
Improved wireless connectivity
Convenient communications management
In many ways, St. Francis Xavier moved from very limited scope and capability to nearly limitless possibilities. Without any sort of formal IT backbone, it seemed that restrictions abounded, and there were numerous questions on how to get from where the church was to where it saw itself going. InterWorks is proud to have come alongside St. Francis to guide them toward empowering solutions.
The two parishes, while harnessing their efforts in different ways to serve different ministries, are still united as one body. The improved connectivity and wireless networks reinforce this and enable staff members to talk and transfer between sites in a simple, flexible way. Not only that, but now staff members can work from home when necessary. Remote access was an impossibility with the previous IT setup, and now nothing is lost or lacking even when out of the office. Security is also improved due to the web filtering and malware alerts, as well as an appropriate separation between staff and guest wireless networks.
A Continued Part to Play
Our relationship with St. Francis Xavier is far from over. After walking through the process of setting up the new building's IT infrastructure, we have continued to provide services that allow the church to maximize its impact in the community of Stillwater. We've also begun talks about installing the network in another upcoming building project, and we're excited to be a part of the continued influence of St. Francis.
These new technologies have enabled St. Francis to extend the church's reach and ministry while remaining a unified body. With the ability to control its own systems and processes, the church can create a more intentional and meaningful experience for their staff members and parishioners. Now, St. Francis has a business-class network that can handle everything thrown at it, even as the church continues to grow, which—if its history is any indication—it's sure to do.