Remember Flip3D from Vista?
"Windows Flip 3D uses the dimension of visual depth to give you a more comprehensive view of your open windows.
Windows Flip 3D also allows you to render images of live processes such as currently playing video. Use the START+TAB keys to initiate the 3-D view, then flip through open windows by using arrow keys or the scroll wheel on your mouse to quickly identify and select the one you want." Quoted from Microsoft.com
                        This feature was removed from Microsoft's latest endeavor in favor of the Aero Peek feature build into the Windows 7 OS.  If you favored the Flip3D feature or just need a periodic change from Aero Peek, here's how you set it up in Windows 7.
1.        Right-click on the desktop, click new, then click shortcut.
2.       Type Rundll32 DwmApi #105 in the location box and click next.
3.       Type Flip3D as the name and click finish.
4.       Right-click the new Flip3D icon and click properties.
5.       On the shortcut tab, click the change Icon button.
6.       Change the Look for icons in this file location to c:windowsexplorer.exe – Choose the Flip3D icon and click OK.  Click OK to close the shortcut properties window.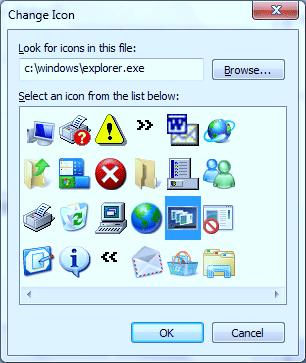 7.        Drag the new shortcut to the taskbar to pin it if desired and take your new toy for a test run…
Larry