Although I've attended Tableau Conference as an InterWorks client before, this is going to be my first TC as an IW employee, and I couldn't be more excited to see my former students and hear what they've been up to with Tableau. It's like a class reunion—catching up with friends and colleagues in the data visualization community and sharing ideas to better our Tableau practice.
Advice from a Tableau Trainer
Several of my students have reached out to me and asked for input on making the most of their TC experience. The real beauty of Tableau Conference is that you can make it what you want it to be, from choosing your sessions and talking with Tableau experts to taking certification exams and partying with your fellow attendees. Let's cover some conference basics before we get into specific session recommendations.
Declare Your Tableau Major 
The myriad sessions at Tableau Conference 2018 are broken out into tracks to help you choose the sessions most relevant to you. Whether you're an analyst, designer or developer, it can be helpful to see what Tableau is suggesting. Of course, you can broaden your horizons by attending sessions in other tracks, but exhausting the options tailored to your track is going to guarantee that you leave with plenty of knowledge to excel in your role.
Test Time
Many of my students ask me when the best time is to take a Tableau certification exam. Why not take the test at TC18? The testing environment is all set up for you. The only thing you have to do is study, of course! Need some pointers? Check out this blog post from my colleague Eugenia Kis!
Office Hours
There are plenty of chances to talk to Tableau experts at TC18. You can book time with a Tableau doctor who can help solve tricky calculation and visualization problems, or you can come talk to us at the InterWorks booth where we can discuss all things Desktop and Server!
Extracurricular Activities
In a conversation about TC18, I'd be remiss not to mention Data Night Out. This is an exciting and fun event where everyone can get together, let their hair down and enjoy the company of other Tableau enthusiasts.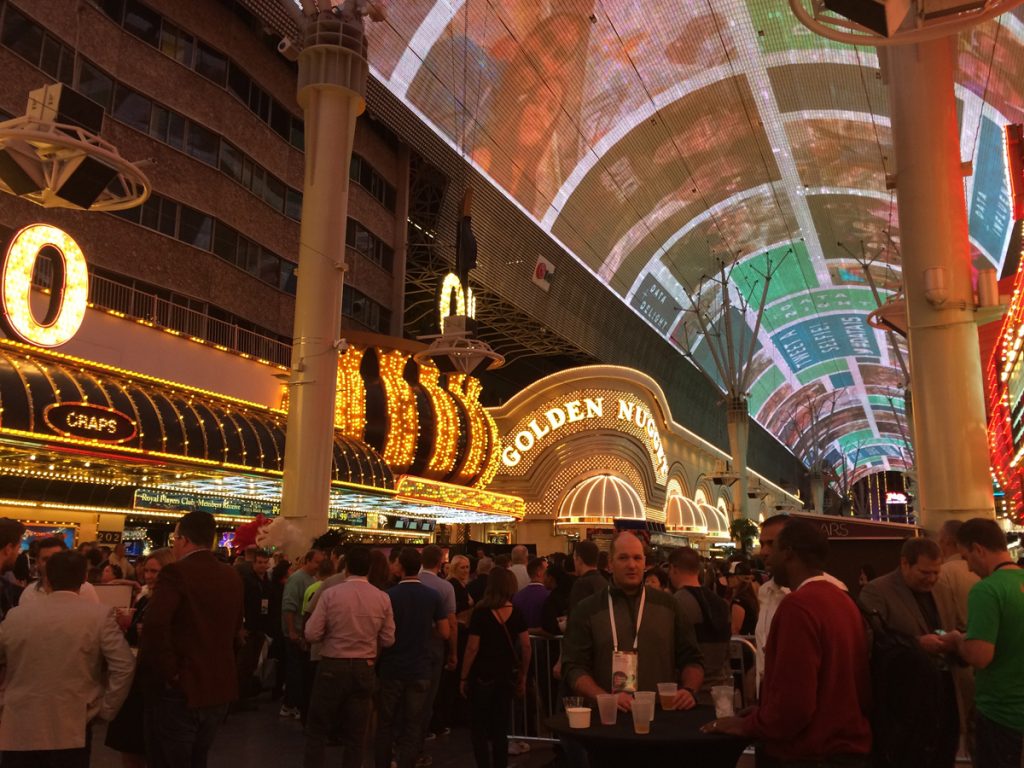 Above: Data Night Out Circa 2015
Sessions for Tableau Beginners
Kyle was one of my Fundamentals students in a virtual class, and he is looking to attend some sessions to get more comfortable with Tableau Desktop. He also wants to learn more about the Tableau product line and the conference itself. Here are my suggestions for Kyle:
Intro to TC18 for Conference Newbies
This is like New Student Orientation for Tableau Conference! If you've never been to TC before, this will be a great introduction on what to expect. Going to large professional conferences like TC18 can be overwhelming, and it's helpful to have a game plan before you get started.
Learn more about this session here.
Intro to Calculations
No matter your level of expertise, it's important to get additional practice in calculated fields since you will likely need a calculation in every. Single. Workbook. This would be good review for a student who attended a Fundamentals class, but it will allow some more time for a deeper dive into items we didn't get to in class.
Learn more about this session here.
The Science of Data Visualization
If you've attended a Tableau course like Kyle, you already know what a powerful and effective tool Tableau is! However, new users of Tableau may be responsible for championing the product at their companies; therefore, I'd recommend this session on why data visualization is so important.
Learn more about this session here.
Lost No Longer: Beginner Mapping With Tableau
If you ask me, mapping is one of Tableau's coolest features and one that really differentiates it from other business intelligence products. This session seems like a great introduction to mapping, plus it offers discussion on some more advanced functionality, like dual axis and background images.
Learn more about this session here.
Sessions for Intermediate Tableau Users
Carol is an intermediate Tableau student interested in retail and entertainment. She is looking to improve her comfort with more advanced chart types and calculations ahead of taking the Qualified Associates Exam. Here are my recommendations for Carol:
Visualizing In-Store Analytics with Disney Merchandise
Carol and I bonded in class over our mutual love for all things Disney. This sounds like it's going to be a great session on key performance indicators, and the content will be right up her alley. It's crucial to get out of your comfort zone and gain exposure to more complex datasets to see all of Tableau's capabilities.
Learn more about this session here.
Stop Your Calcs from Bugging Out
Since Carol is gearing up for some Tableau certifications, it's important to get some hands-on practice with calculations. Bugs in calculations can be frustrating for Tableau users of all levels, and this session will walk you through the steps of resolving common issues.
Learn more about this session here.
Join Us for Joins
In our Intermediate Desktop II class, we talk about all the different data connections available in Tableau. This session is going to discuss how to perform joins in Tableau Prep, so your data sources will be ready when you need to import them to Tableau Desktop.
Learn more about this session here.
Tableau Speed Charting: 50 Charts in 50 Minutes
This session will give you exposure to 50 (that's right!) charts in under an hour. For those looking to move beyond typical bar charts, this will give you plenty of inspiration.
Learn more about this session here.
Sessions for Advanced Tableau Users
Pam is a Tableau power user and has been developing Tableau dashboards for several years. TC18 isn't her first rodeo, so she is looking for some challenging sessions to learn more and network with other advanced Tableau users.
Advanced Calculations
In the real world, calculations are used in just about every workbook, so it's crucial to be comfortable with all types of calculations, from aggregations and join calculations to string and beyond.
Learn more about this session here.
Designing Efficient Workbooks
"This workbook so slow!" How many of you have heard that complaint before? For power users like Pam, this session promises to help diagnose issues that can bog down performance in Tableau Server.
Learn more about this session here.
Parameters: Oh, the Places You'll Go!
For users who have attended Desktop III, you've already gained exposure to parameters in Tableau Desktop. This session will take parameters to the next level: seeing how parameters are used in Server and the Tableau API. What looks particularly exciting about this session is getting beyond the typical situations we might see in training and branching out to get more comfortable with this awesome functionality.
Learn more about this session here.
Solving Tough Time-Based Problems with Skeleton Tables and Tableau Prep
As a Tableau trainer, I get tons of questions about missing dates in datasets and how we can pad our datasets with dates that aren't there. Luckily, there is a TC18 session devoted to this very topic! This is "Jedi" level, but I think it would be beneficial to anyone looking to supplement their existing datasets with a calendar table. Plus, you'll get the added bonus of some Tableau Prep demonstrations!
Learn more about this session here.
See You in NOLA!
Hopefully, this post has given you a lot of things to consider. TC18 is full of amazing sessions and great opportunities to learn more about Tableau and network with other Tableau fans. Make the most of your time, and remember to stop by the InterWorks booth (329) for a new take on the data experience!