This week I've had the pleasure of attending an 8-day trip across the state of Oklahoma with 22 of my friends (who also happen to be coworkers). These 22 #teamiw brave souls are battling heat exhaustion, treacherous hills, and lots of mechanical problems as they ride bicycles an average of 64 miles per day in 95°F-100°F weather. Can you imagine? No? Me either. So where do I fit in? As Support Queen/Team Mom (not self-proclaimed, by the way) it is my job to:
Drive the truck and trailer between campsites

Set up camp

Make sure everyone has plenty of water
Grocery shop (with the expected run to the liquor store)
Acquire warm breakfast each morning
Be generally helpful and provide moral support when most needed
"So why should I do it?"
The concept! After being blown away by last year's team completing Freewheel, I knew that I wanted to be part of it. I don't own a bike, nor do I think I have the emotional stamina to endure the ride, but I was looking for a way to help. I'm blown away by their commitment, so it seemed like a pretty decent way to contribute.
The food! You get to enjoy tasty camp food, even though you haven't burned the calories to deserve it.
The tan! You'll pick up a nice golden brown tan without even trying. Forget about boring hours of wasted time out by the pool. While setting up camp, you'll get a great workout and a tan at the SAME TIME.
The sunrises! No words necessary – just check out these pictures.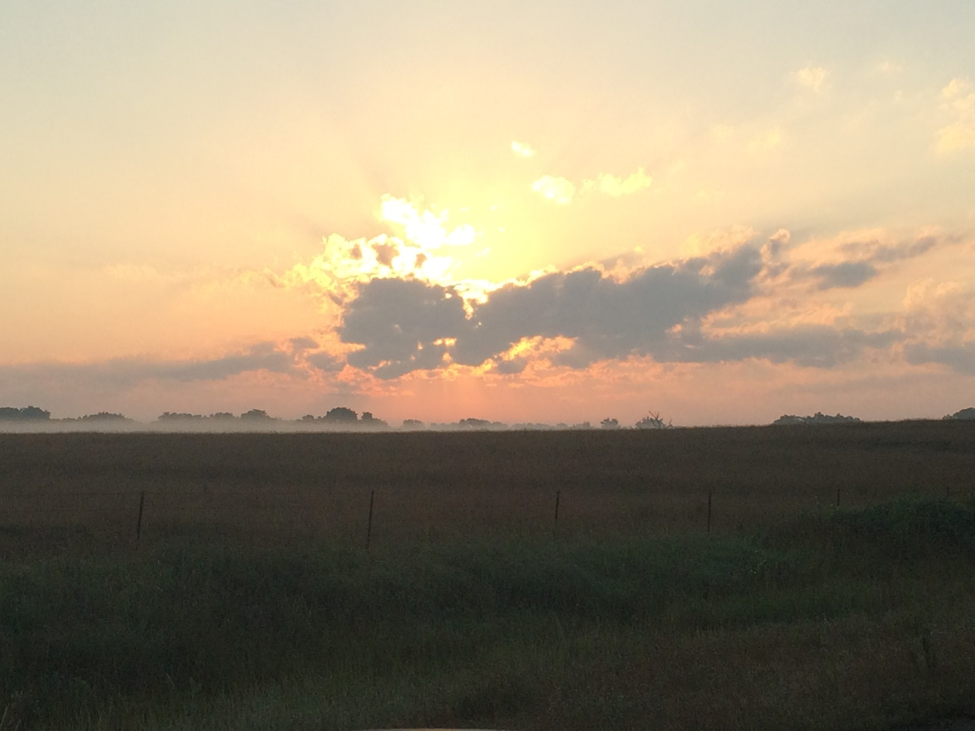 The journey! I moved to Oklahoma in January but haven't had the chance to explore much outside of Stillwater and Oklahoma City. Madill, Wewoka, Coalgate, Sand Springs, Okmulgee, and Claremore have been accomplished so far! This trip is giving me the opportunity to check out some new places and experience the great outdoors. Oklahoma is pretty OK 😉
The friends! You'll make new friends, and they'll come to your rescue when a one person job turns into two. You'll see the same crews at the gas station and laundromat, and you'll learn a little about the people of Freewheel.
The fun! Imagine a weekend BBQ with 22 of your friends that happens every. single. night. We ordered pizza and sat around watching Game of Thrones. We celebrated a birthday. We girl-chatted and danced to reggae music. There is definitely no lack of entertainment.
The gratitude! Heartfelt "thank you"s are abundant and greatly appreciated. As Support Queen, you're taking the burden off of these folks who are exhausted and sweaty, so even the smallest assistance means the world to them.
Tips and tricks
Take a look at the campsite maps and routes before the trip – check out Google Street View to get a sense of shady spots to set up camp!
Buy frozen breakfast burritos. Make sure there are at least 2 for each person, and then buy ANOTHER bag. Put them on the grill each morning and watch as smiling, satisfied riders roll out of camp.

Grill up some brats, hot dogs, or hot links as riders make their way back into camp. They're usually starving and just about any type of food will taste wonderful. Oh, and mustard. Lots of mustard!
Pay to stay in an air conditioned camper. Seriously. Don't think about it. Just do it.
Don't bring makeup. Or a hair dryer. Or nice clothes. You won't need them, I promise.
Disclaimer: It isn't all sunshine and roses.
I'll start off by saying that I am in no way, shape, or form comparing my struggles to those of the riders (or runners!). I honestly cannot even fathom putting in the amount of effort that I've seen from each of them each day – it's inspiring! However, for this to be a fair recollection of the week, I've got to provide the difficult parts too. This isn't a vacation – the work is tough! Chairs, tents, and bike supplies for 22 people add up quickly. Hitching up a truck and trailer by yourself can be quite challenging. As I drive each day, I am plagued with anxiety about the trailer coming unhitched and rolling down the street in the opposite direction. Water can sometimes be far away from camp, and you might spill it on some innocent person's tent. 4AM wake-ups every morning to prep breakfast and finish packing are exhausting. Did I mention that it's hot? My biggest complaint is going to bed icky. Sunscreen, bug spray, and sweat is not my preferred sleeping attire. Overall, don't take the complaints too seriously. I'm sure I'll have forgotten all about the tough parts when I wake up at home on Sunday.
Tomorrow's stop takes us to Bartlesville, OK. I'm so proud of #teamiw and can't wait to watch y'all cross the finish line in Caney, KS! Follow along on our adventure: look for #teamiw at #okfreewheel on Twitter, Facebook, and Instagram!