Rosetta Stone Inc. is a U.S. software company that develops Rosetta Stone, a computer-assisted language learning program that teaches more than 30 languages.
Client Testimonial
"Working with InterWorks helped Rosetta Stone jumpstart our Tableau implementation. The InterWorks team was able to quickly train the Rosetta Stone BI team on the core features of Tableau and best practices for implementation. InterWorks was also able to provide a four day in-depth training to the Finance team members, which are the largest set of stakeholders for the BI team, and was able to motivate adoption and excitement of the new tool. InterWorks' expertise provided great advice on how to shift analysis away from the old-fashion digging through 'walls-of-data' for answers. Instead, they presented many valuable examples of focused trending and visualizations that helped increase business productivity.
In addition to providing support to the business users, InterWorks also gave excellent advice in terms of administration and Tableau Server configuration, QA processes, platform architecture and future initiatives. The InterWorks team has provided many time saving implementation features that saved the launch project many hours and helped us deliver on time." 
Joe Bertram
Senior Technical Architect
Rosetta Stone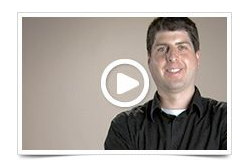 See a full interview with Joe Bertram on Tableau's website.
Challenges:
Learning to Speak Data
Business trends, operational results, budgeting, financial/sales reports, performance evaluations and ad-hoc analysis were all in sight with Rosetta Stone's company management processes. The company took a page from their very own methodology book and decided to learn to speak data with Tableau Software.

Two Companies, One Vision
When comparing the company cultures and goals of Rosetta Stone and Tableau, their similarities make it evident that this was a match made in data heaven. Rosetta Stone implements methods that are "changing the way the world learns language." This is accomplished by unlocking the natural language learning skills that everyone holds through interactive technology that can activate those skills.
Similarly, Tableau empowers its users, giving them the power to think, act, deliver, and most importantly, understand data through natural, interactive and visual learning. Both companies put their users in a position to put their skills to the test in an environment that will foster growth and exploration. Moreover, both endeavor to spread the mission of group collaboration and productivity.
Using Tableau to Overcome Communication Challenges
After using the
basic reporting that came with their Oracle warehouse (OBIEE) for many years, Rosetta Stone saw a need to do more with their reporting. A software company themselves, they recognized the need and value of creating quick, pro-active and visual reporting in order to better understand their business.
After specifically seeking out the Tableau expertise of the InterWorks BI team, Rosetta Stone sought to deploy Tableau Server and develop/move their current reports from OBIEE to Tableau. In addition, Rosetta Stone wanted to allow their business users to do ad hoc reporting on their own, without needing to send in a request to the BI team in order to develop a simple report.
Rosetta was unique in the fact that while most clients are engaged with data from the business side, Tableau's implementation was brought into Rosetta by the IT side. This allowed for a powerful and unique engagement with Rosetta, since the BI team was wholly on-board with Tableau as a reporting tool and appropriately excited about building the transition.
Rosetta Stone serves both institutional and consumer business. They analyze these two types of businesses in different ways, with a department for both institutional and consumer sales. Since recently closing all of their kiosk sales, most of their consumer sales focuses on "DTC," or direct-to-consumer licenses, sold mostly online or through retail partners such as Best Buy, Amazon and Barnes and Noble.
While their consumer side serves all types of individuals, from children to adults learning a language for the first time, they also serve a wide variety of institutional customers. Their largest customers include government entities such as the U.S. Military and NASA. They also serve educational institutions, ranging from high schools to respected universities.
Solutions:
Data Infrastructure, Tableau Server Implementation & Data Sources
Subsequently, InterWorks stepped in to help build out Rosetta Stone's Tableau Server environment, which included evaluations and recommendations based on data best practices. The new environment would create a durable space for growth over years of use.
InterWorks' direction led Rosetta Stone's data environment to the right hardware/RAM requirements, failover/VMware backup protocol, AD integration (which included custom scripts to supplement AD syncs and backups), server cleanup, poses discussion and user security.
Teaching Tableau to Those Who Teach
Similar to Rosetta Stone's multi-tiered approach to learning, the InterWorks team approached the project with an adaptable plan, putting self-service at the forefront of the implementation process. Starting with training, InterWorks outlined custom stepped processes and developed for varying departments, which needed specifics addressed. Training was provided to Rosetta Stone's FP&A, Sales and Marketing teams initially. As a follow-up process, each trainee received personalized, one-on-one training in order to learn Tableau application techniques and sharpen their ETL/data source and analysis proficiency.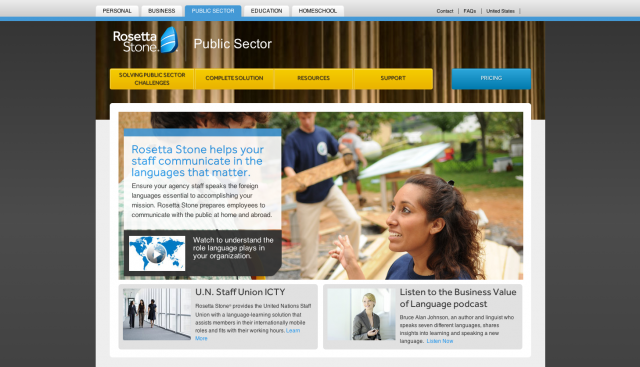 Improving the Learning & Operational Processes
With self-service well in focus with this project, InterWorks pursued an option that built a review process for new data sources that would be subsequently controlled by the internal BI team at Rosetta Stone. In regards to Tableau workbooks, InterWorks set up a process by which analysts can publish directly to the Tableau Server QA environment, where dashboards will be reviewed by the Rosetta Stone BI team and sent into production.
Additionally, users can now connect directly to relevant datasets and conduct their own ad hoc analysis without having to rely on IT or BI teams for report development. With a selection of key reports used in OBIEE, InterWorks executed effective report migration by redeveloping the selection of reports in Tableau, making visual and interactive reports for the end user. This was achieved through the use of OBIEE logged queries to expedite view writing.
Long-Term Contributions to Data Interaction within Tableau
An essential part of the InterWorks Tableau implementation strategy revolves around a long-term design for clients that will help them sustain and improve on the foundation laid by InterWorks. For Rosetta Stone, InterWorks' long-term strategy included limiting the redundancy of report generation by using high-level drill downs to build guided analytics in dashboards.
This allows many questions to be answered instantaneously, as opposed to a 1-2 report process. InterWorks also outlined the importance of focusing on what Rosetta Stone needed from their data versus backtracking into old/dated requirements. When defining data sources, InterWorks used overall data requirements for larger datasets in first round data sources and built concise reports for user-specific or department-specific needs.
Through defining report requirements, InterWorks organized sit-down sessions with team and department leaders so they could better understand what they needed versus what they've been using. InterWorks then built rough drafts based on feedback and refined them until they were perfected. In the true spirit of collaboration and diversity, supporting a key philosophy of Rosetta Stone, InterWorks encouraged and oversaw the integration of an internal user group and online community. The overarching goal of these groups is to increase productivity and connect employees in order to grow the value of data discovery.
Results:
Solving Problems with Tableau, Keeping Momentum
Rosetta Stone's Tableau implementation, led by InterWorks' BI team, ensured the cultural adaptation of Tableau fundamental practices that will continue to deliver value, as long as data continues to be created. Old problems, such as slow reporting turn-around time, end-user difficulties and workload redundancy, involved hours of wasted time to simply display a proper report in each department. When implementing Tableau, InterWorks separated the user requirements into two categories: analysts and report consumers. Analysts were categorized as anyone who was answering questions with data on a regular basis. The financial team, accounting, user metrics, customer and sales data helped form this sector.

InterWorks' published data sources for analysts to use instead of downloading to Excel and creating new reports every month. With Tableau data sources, they were able to develop the report they needed and re-open it with the new data they desired automatically. The analysts also no longer needed to go to the internal BI team for every possible data set they could want, as many of the datasets were already published. This approach allowed for less development time, as well as for more answers provided by the people asking the questions. Analysts were empowered with the appropriate data, allowing them to answer quick and one-off questions. This would have taken a significant amount of time using past methods.
The InterWorks team was able to quickly train the Rosetta Stone BI team on the core features of Tableau and best practices for implementation.
For the consumers, InterWorks had a list of reports, which needed to be moved off of OBIEE to Tableau. Using the list and current OBIEE reports, wide and long-term dashboards were developed and deployed in each department. This new manner of dashboard creation and implementation allowed departments to answer their questions in different ways. Finally, InterWorks took reports that were primarily cross-tab based and made them visual while still incorporating the need and requirements for the cross-tabbed result.

The Final Grade
Much like learning any language, learning to speak data takes diligence, practice and above all, a willingness to learn. How well students are equipped also plays a huge part in how well they'll be able to perform. Tableau training from InterWorks endowed Rosetta Stone with all the tools they need to better collect, analyze and understand their data. The InterWorks BI team, fluent in data, did two very important things for Rosetta. First, they restructured Rosetta's data environment, giving them the ideal atmosphere in which Rosetta can learn about their data. Second, they taught Rosetta team members to understand what their data was saying through Tableau and how to respond.
The common denominator that attributed to the overall success of the project was the innovative approach to education taken by Rosetta Stone, Tableau and InterWorks. All three are committed to developing a deeper and more natural understanding among their clients. Rosetta Stone simplifies the way people learn to communicate, Tableau simplifies the way people visualize data and InterWorks simplifies the way people learn about data. Given these similarities, it's easy to see how InterWorks could implement Tableau so effectively within Rosetta Stone. Thanks to these efforts, Rosetta Stone can continue to revolutionize the way people learn like never before.
See the story and interview: "Rosetta Stone Improves Data Fluency with Tableau & InterWorks" on Tableau's website.