Source: okcBiz: okc.biz/oklahoma/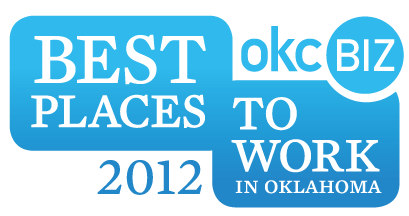 Top 30 Best Places to Work in Oklahoma Announced
Oklahoma City, Okla. – okcBIZ magazine announced today that 30 Oklahoma companies have been selected as finalists for the 2012 Best Places to Work in Oklahoma program, which identifies and honors the state's best employers.
Best Companies Group collected data from the competition entrants and performed employee surveys to determine which companies had the best practices, and participants will be ranked accordingly.
All 30 companies will receive the results of their survey, identifying their workplace strengths and weaknesses as compared to other participants. Categories studied include: Leadership and Planning, Corporate Culture and Communications, Role Satisfaction, Work Environment and Relationship with Supervisor.
okcBIZ Associate Publisher Jeffri-Lynn Dyer said, "The companies making this year's list display an incredible level of engagement among employees as well as a commitment to ensuring their time at work is as enjoyable as it is productive. I would be willing to pit them against employers everywhere. No wonder they are among the Best Places to Work in Oklahoma for 2012!"
Twenty one of this year's honorees were also ranked last year.
The 2012 Best Places to Work in Oklahoma finalists, in alphabetical order, are:
C² Technologies, Inc.
Cancer Treatment Centers of America
Capital One Auto Finance
CFR
Chaparral Energy
Cintas Corporation
Coppermark Bank
Cox Communications
Diagnostic Laboratory of Oklahoma
Edward Jones
Eide Bailly LLP
Encompass Home Health
First United Bank
GableGotwals
Great Plains Technology Center
HoganTaylor LLP
Ideal Homes of Norman, LP
INSURICA (Oklahoma City and Norman Offices)
InterWorks, Inc.
Maschino, Hudelson & Associates
Mid-Continent Casualty Company
Oklahoma City Indian Clinic
Oklahoma State University Foundation
Paycom Payroll LLC
Public Strategies, Inc.
QuiBids
Republic Bank & Trust
Tri County Technology Center
Vox Printing
Wallace Engineering
OKCBiz will announce the 2012 Best Places to Work in Oklahoma rankings at its annual awards gala on June 28 at the Skirvin Hilton Hotel. All finalists will be featured in the July issue of OKCBiz.
Best Places to Work in Oklahoma awards dinner event tickets and copies of the magazine may be purchased by calling (405) 605-6715.
                                                                           ###