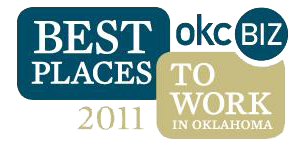 STILLWATER, OKLA. — InterWorks, Inc. has been ranked in the Top 5 Best Places to Work in Oklahoma by OKCBiz Magazine. OKCBiz explains that the award honors "(…) thirty outstanding companies successful in creating and maintaining excellence in the workplace."
The award is based on a two-part process. The first portion is a questionnaire that covers the benefits and policies of the company. The second is a survey completed by the staff. The survey responses are anonymous to the employers, which allows employees to be completely open about their workplace. The results of the questionnaire and survey are then ranked based on factors such as: leadership, corporate culture, communication, work environment, pay/benefits, etc. This was InterWorks' first year applying for the award.
A company spokesperson describes InterWorks as "(…) the kind of place that employees look forward to going everyday. Team members are not only specialists in their fields, but have passion and motivation about their jobs, which opens up the door for progression everyday. InterWorks strives to ensure that every employee is fulfilled, appreciated and respected in their jobs. Each team member takes pride in InterWorks and it shows in their daily work."
The company has been gaining regional and national recognition for its range of I.T. services and accomplishments. Among the awards are a 2010 Dell Partner of the Year Award, an Inc. 5000 Fastest Growing Private Companies listing for the past three years, Best IT, Web Design, and Hosting Company from OKCBiz Best of Business, CRN – Fastest Growing Company recipient, Innovator of the Year (Journal Record) and a Journal Record 2011 Achievers Under 40 award to CEO, Behfar Jahanshahi. The company has also become highly involved in Information Technology events around the region including Innotech Technology Conference & Expo, Oklahoma (Title Sponsor 2010 and 2011), Innotech Technology Conference & Expo, Dallas (Bronze Event Sponsor 2011) and served as the event host for the Oklahoma Information Technology Forum (2010 and 2011).  
InterWorks is an I.T. services and business solutions provider offering services for network support, business intelligence, software/mobile app development, web strategy, virtualization, data storage/backup, disaster recovery planning and CIO services. InterWorks not only serves a wide range of clients in Oklahoma, but also has an extensive nation-wide customer base.
For more information about InterWorks' company culture, services and career opportunities, visit: www.interworks.com or facebook.com/interworks.