When trying to log into Smartermail with Internet Explorer 10 using any account, Smartermail will immediately go to a page displaying "An Error Occurred" for "Page: /Login.aspx", and will request that you contact your system administrator. With the IE 10 becoming more mainstream with the recent release of Windows 8 and IE10 now listed as a critical update for Windows 7, this issue has become more mainstream.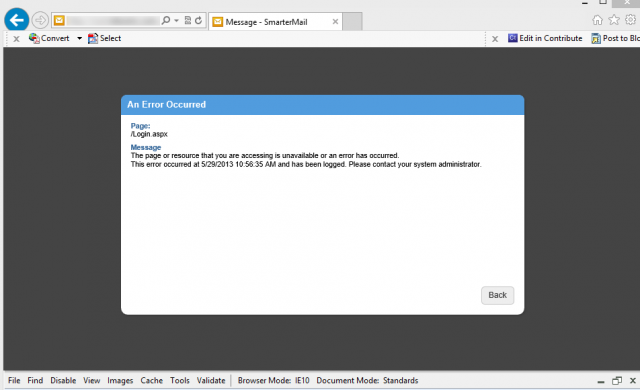 How to Fix SmarterMail IE10 Login Issues
The actual issue likes in the fact that IE10 does not allow certain plug-ins to run. There are several forum posts on the issue, but one of the better explanations can be found at the following link: http://forums.smartertools.com/threads/windows-8-ie-10-issues-with-sm-10…
"IE 10 UI Differences: IE 10 will benotable for not allowing plug-ins, except for a built-in and touch-optimized Adobe Flash Player plug-in. Microsoft announced in May it would include the Flash Player for both the "desktop" and "Metro" user interfaces of Windows 8. This exception to the no plug-ins approach was made because many Web sites do not yet support native HTML 5 graphics, and they still need to depend on Flash. It's not clear at this point if IE 10 for Windows 7 will come with this built-in Flash Player or not."
Temporary One-Time Fix: SmarterMail IE10 Login Issues
If a 1-time fix is needed, i.e. you're borrowing someone else's computer to log into webmail, you can open up the Developer Tools by clicking F12 and changing the browser mode from the default select mode to Browser Mode: IE10 Compatibility View.

Permanent Fix: SmarterMail IE10 Login Issues
If SmarterMail and IE10 are regularly used, it makes more sense to apply a permanent fix by forcing the website to always open in IE10 Compatibility Mode. 
To do this, click ALT to open the Menu Bar
Navigate to Tools
Click on Compatibility View Settings

Next, add the address to the website. In the example below, mail.contoso.com was used.
By default, Internet Explorer will strip out the subdomain and only add the base domain name. In this case, only contoso.com will appear.
Now, every time a user navigates to SmarterMail, IE 10 will default to IE10 Compatibility Mode and the user will be able to login to access their mail.