Whether you are a high school princess worried about online jerks or a Fortune 500 corporation dealing with loud and disgruntled reviewers, the general answer is the same: Use everything at your disposal to manage your online reputation.
So What Does That Mean, Online Reputation Management?
In short, you want to do everything you can to 'own' the search engine results pages – especially page one. If you have little competition, just be sure to stake your claim on every social media website and online forum that you can. If you have significant competition, work to push bad results down and work your own results up to the top in as many ways as possible.
This is known as Online Reputation Management (or ORM) and it typically involves tying the two disciplines of Search Engine Optimization (SEO) and Social Media Marketing into the single goal of 'owning' a search phrase – or at least giving the opposing views a good run for their money.
Let's See An Easy Example.
It's a bit of a game to get the name, company or search phrase out on a handful of powerful locations and then work to ensuring those are well liked by Google and Yahoo. For example, let's Google my name: "dalton parsons":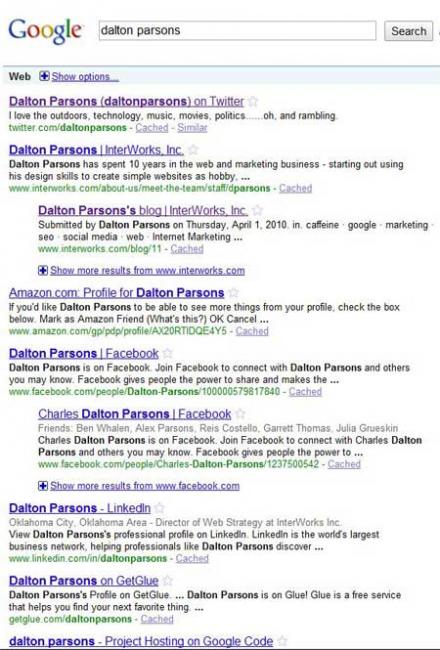 What you'll see is an entire first page and many on subsequent pages where I rule the results. For me, this happened through major social media networks and various group membership. Now, that's a fairly easy one because there isn't a lot of competition for me; however, this process is the same for you or your business.
Where Do I Start to Manage My Online Footprint?
I mentioned above that you go and grab every profile page that you can, but what else is there?  You start by making a plan for dominance, then act on it.  
When we are contracted to do this for our clients, we typically work with the company to understand all the issues at hand and layout the strategies – both the initial requirements and the ongoing tasks necessary for success.
Once you have the plan, we can either handle all tasks involved or just act as the management/consultant point for folks within your company that can handle the day-to-day maintenance of the strategy. Either way, we can assist in staying on top of the progress and dealing with new issues as they arise (forum posts, blog comments, etc).
The Long Term.
You have to work to stay on top of the game. If you are a business with competition, I guarantee your competitors are watching what you are doing and will try to do the same. Depending on your size and footprint, you should:
Set up Google Alerts
Monitor Twitter 24 hours a day
Check all of your website's backlinks for unsavory sites linking to you 
Regularly search all engines for your terms
It may sound like a lot, but consider what is at stake. If someone searches for you or your company, what do you want them to find?