Traveling with the Apple Watch is a combination of fun and frustrating – mostly fun. I checked travel schedules, boarded plans, purchased coffee, used map directions, sent and received texts, and answered a phone call – all from my phone. People notice the watch and ask questions about it. As a result, I have become good a "demoing" the features. What's interesting is that I spent two days at a Silicon Valley technology conference this week and didn't see another person with an Apple Watch. Not at the event, at the hotel or at the airports in Atlanta, San Jose or Los Angeles. Apple Watches are "exclusive" possesions right now.
Getting Noticed
The watch attracted a lot of attention at airports, restaurants and at the tradeshow I worked this week. A typical comment; "Oh, WOW, is that an Apple Watch?" People want to know more about it. Several told me that they couldn't wait to get one. Others said that the last thing they wanted was something on their wrist that acted like a cell phone.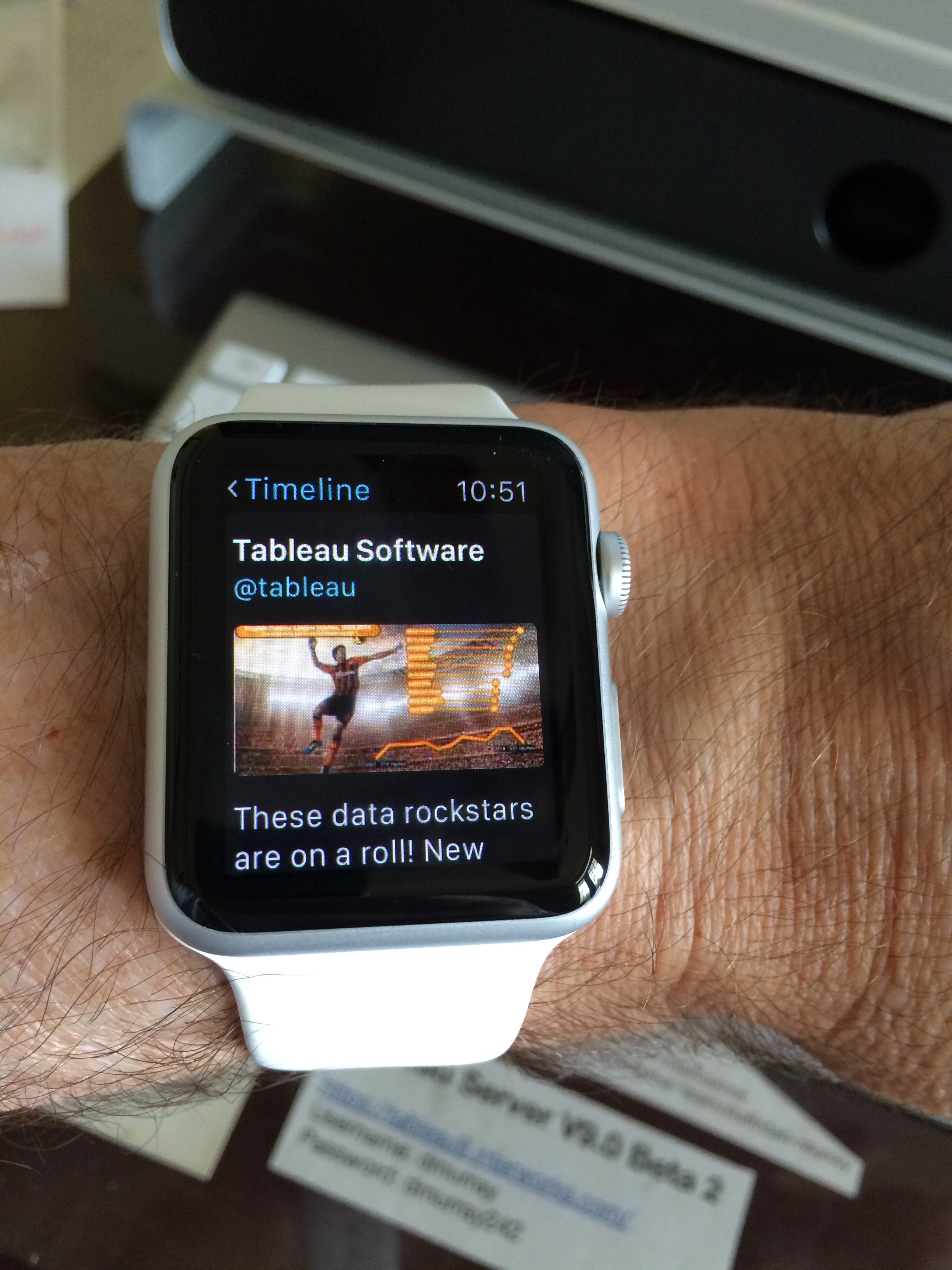 Boarding Delta Flights
Because electronic boarding pass readers at airports are geared toward reading phones, using the Apple Watch is a little awkward at best or impossible at worst. TSA scanners are set up for paper or phone scans. Using the Apple Watch requires that you rotate your wrist so that the watch is face down. This is a little awkward but do-able.
At the airport in San Jose, the Delta scanner in the plane boarding line was designed for sliding a phone into a two-inch opening. So, there wasn't enough space for my hand and watch to fit into the space. I was forced to step aside and get my phone out. The Delta Sky Club at LAX didn't have a scanner available on the counter top, so the Delta rep printed a hard copy for me to scan. It will take months for the airlines to adapt. I'm sure they will if five million travelers get their hands on the watch.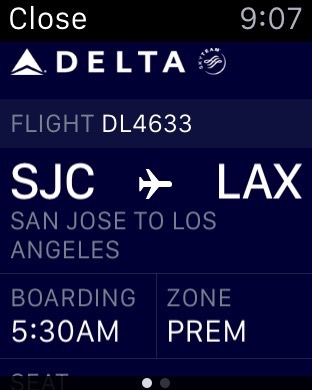 Travel Itineraries
My travel plans popped up via notifications at the appropriate times – very convenient. This seems like a small deal, but it's a nice convenience. I have a tendency to pull my phone out every few minutes at the airport to check flight status, gate information, and other trip details. The Apple Watch replaced my phone for these inquiries. I rarely rent cars for travel now (Uber is more cost-effective for big cities). When I did rent cars, I used Hertz.
What I liked about Hertz is the way they emailed me my auto rental information – car type and stall location. Rental car companies should have make apps that display car type and stall location on the Apple Watch that appears in notifications when you land at your destination. That would be very useful for frequent travelers. Are you listening, Hertz?
Directions Using Siri, Apple Maps and Google Maps
I walked from my hotel to the San Jose Convention Center. Using the watch directions was OK. If you know the general direction that you need to travel for the destination, the watch provides distance to the next turn, the street to turn on and the direction (left-right) for the turn. A haptic tap tells you when to turn, and looking at the watch face provides the rest of the details – direction and street name. If you start your trip in the right direction, this works very well. If you don't (like me), you'll have to pull out your iPhone to get your bearings. Both Apple and Google maps worked well.
Starbucks
The Apple Watch application worked perfectly using Passbook. Coffee and banana nut bread resulted from the watch scan without issue.
Notes – Drafts
I dictated some notes using Draft from my watch. This worked perfectly in quiet spaces, but the background noise in the main conference hall was challenging in the same way it would be on a phone. Very handy for documenting quick thoughts to my Drafts app for later review and consolidation.
Apple Pay
I didn't have the opportunity to use Apple Pay from watch. I have an iPhone 5s. Apple Pay isn't supported on the 5s directly, but you can use it with the 5s + Apple Watch. I look forward to trying this out when the opportunity strikes.
Sports Scores
I turned on notifications for ESPN and a couple of other apps to get NBA and NHL playoff scores. These all worked pretty well. It kept me apprised last night of the beatdown the Bulls put on the Bucks.
Facebook
We use Facebook for certain kinds of information sharing at InterWorks. Once again, the watch worked fine for monitoring the stream.
Uber
I had hoped to test the Uber app but took cabs instead. I did open the application in San Jose. It displays the estimated time required for the driver to arrive. I don't know what options are available for texting or calling the Uber driver from the Apple Watch.
Activity/Exercise Data
I like the Apple Watch fitness app. It tracks active calories burned, total steps and total distance. The watch also reminds you to get up at least once every hour. This actually got me to stand a few times on my return flight from LAX to ATL yesterday. This will be a good thing for people that sit in cubicles all day at work.
Wunderlist
I've setup Wunderlist in my glances along with the calendar, weather and stock feed. Glances are accessed by swiping up from the watch screen and then swiping to the right or left on each glance to advance through frequently-used applications. This works well for my Wunderlist action items and calendar entries for meetings.
Text and Email
I really like monitoring and responding to text messages on the watch. Siri works well for unique responses. Setting up your own saved text responses is easy. The canned ones that Apple provides handle a decent variety of situations. Texting is surprisingly good via the Apple Watch. This is my favorite Apple Watch activity. I don't like using the watch for email and turned off email notifications after my first hour with the watch. The mail app is only good for glancing at headings. I don't want notifications when emails arrive. I'd rather batch emails and answer them three times each day.
Monitoring Stocks via Glances
I set up the stock monitoring app on my glances. This is handy. I like to monitor stocks during quarterly earnings releases. Twitter's earnings flop this week and its subsequent stock volatility was easily monitored on my watch. It's great for monitoring specific stocks.
OpenTable
I like using OpenTable to book reservations for dinner but didn't have the opportunity this week. You can't book reservations using OpenTable on the Apple Watch yet, but you can get notifications and reminders.
Overall Grade
B+. Battery life is better than I expected. I put the watch on every morning around 6:15 a.m. and took it off between 11:00-11:30 p.m. each night. I generally had over 30% power remaining at the end of the day on my watch. On the downside, my iPhone required a charge around 3:00 p.m. every afternoon for me to feel confident that I would have enough power to get through the evening. Pre-Apple Watch, I rarely had to charge my iPhone 5s during the day. If I'm using the watch frequently during the day, it looks like a 15-20 minute phone charge is going to become part of my daily routine.
Apple's built-in apps are fast and reliable. Most third-party apps are slower. Developers seem to be doing daily updates to address speed and bug issues right now. Over time, I expect third party apps will get faster.
I'm a gadget guy, and this watch is a big upgrade from my Pebble. The Pebble's e-ink is more energy-efficient; I get at least seven days per charge on my Pebble. But the fun-factor and flexibility of the Apple Watch puts it way above the Pebble. With the huge developer community, Apple Watch apps will multiply and improve. I'm happy with my Sport model purchase. It looks good and performs well.