Why are my Japanese treats wrapped in a cloth?
This cloth is called a furoshiki, and they're used to wrap and carry all kinds of things in Japan.

The word furoshiki translates as "bath spread" (furo (風呂), or "bath", and shiki (敷), "spread"), since people used to use large square cloths to wrap up their clothing when they went to bath houses. Different emblems, patterns and family crests helped people to identify which bundle was theirs. It wasn't long before the custom spread to include other uses, such as wrapping books, gifts, and merchandise. Furoshiki fell out of favour in the post-war period, when plastic and paper bags became available to shoppers, but their versatility and reusability mean that they've become popular again in recent times.

Today, they're commonly used by Japanese schoolchildren to carry their lunchtime bento boxes, and by gift-givers around the world as an environmentally-friendly way to wrap gifts.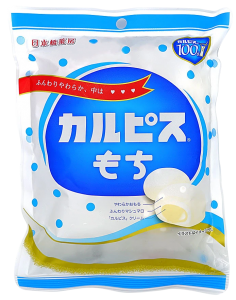 Calpico Mochi
This chewy mochi is flavored with popular Japanese soft-drink Calpico (Calpis), a milky beverage with a tangy flavor similar to yogurt. Calpico is one of Japan's most popular drinks since it was first released in 1919! The outside layer of this snack is a pillowy-soft rice cake, but inside is a marshmallow layer covering the sweet and tangy Calpico-flavored jam center.
Common Allergens: Milk, Eggs, Soy
Gluten-Free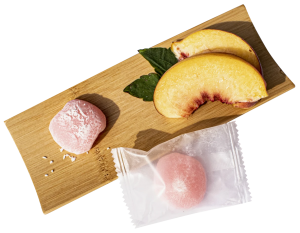 White Peach Kibi Dango Mochi
This cute pink treat is called kibi dango, which means it is made with millet or kibi. Peach is a popular flavor for kibi dango because of its association with Momotaro, "Peach Boy", a Japanese folk-hero.
Common Allergens: Milk
Vegetarian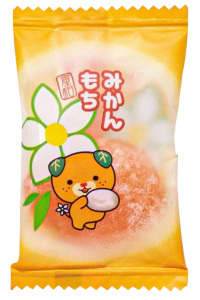 Mikan Mochi
Ehime Prefecture's mascot Mikyan is very excited for you to try this mochi flavored with the Ehime's famous mikan fruit! Mikan is one of the sweetest citrus fruits, great for snacking, and has no seeds. Its sweet juice and peel flavor this mochi throughout. A bit of iyokan is also added for balance, as it's a slightly more bitter citrus fruit and keeps the mochi from being too sweet.
Common Allergens: Milk
Gluten-Free
Vegetarian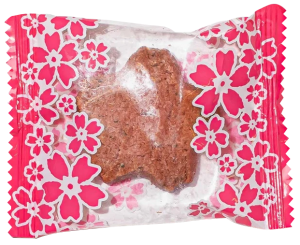 Sakura Chinsuko
This adorable Sakura Chinsuko cookie is shaped, flavored, and colored like a Japanese cherry blossom. Chinsuko is a traditional cookie from Okinawa and is a very popular omiyage (souvenir gift) in Japan. It's similar in texture to a shortbread cookie and carries delicate flavors like sakura well. The addition of real sakura leaves enhances the light floral flavor of this pink cookie.
Common Allergens: Eggs, Wheat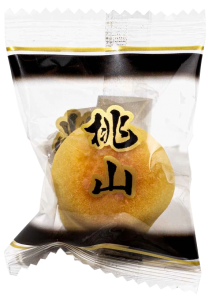 Momoyama
This sweet wagashi is a traditional Japanese confection known as momoyama. This type of wagashi is primarily made of white bean paste, sugar, egg yolk, and a small amount of flour or starch, mixed together and baked for a sweet confection. Momoyama are bite-sized and so flavorful. They pair well with tea, especially rich matcha.
Common Allergens: Eggs
Gluten-Free
Vegetarian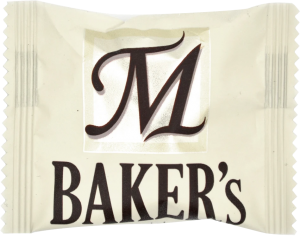 M Baker's Cookie: Custard Flavor
This soft cookie really does taste like custard pudding! It has a lovely vanilla flavor and somehow captures the eggy, creamy flavor of custard too.
Common Allergens: Milk, Eggs, Wheat, Soy
Vegetarian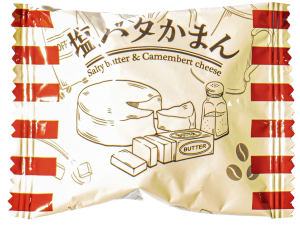 Salty Butter + Camembert Cheese Cookie
While still on the sweet side, this sandwich cookie has a sharp flavor from the camembert filling and the salted butter used in the cookie that adds a refreshing savoriness. Camembert is a popular flavor for cookies in Japan, as its flavor pairs well with sweets. This cookie is great with tea, but would also go well with a cheese platter.
Common Allergens: Milk, Eggs, Wheat, Soy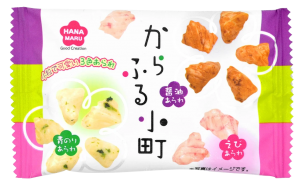 Colorful Komachi Rice Cracker Mix
This mix of teeny senbei crackers features 3 flavors aonori (green laver), shrimp, and soy sauce. Each flavor offers something on its own, but together they form a yummy medley of crunchy rice crackers, perfect for taking on the go, or as a quick afternoon snack.
Common Allergens: Crustacean shellfish, Wheat, Soy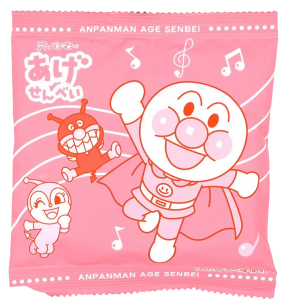 Anpanman Age Senbei
Japanese children's superhero Anpanman (who fights off the evil bacteria Baikinman) is here to save the day with delicious snacks! This month he's bringing us these savory age senbei or "fried rice crackers". Coated with soy sauce and a hint of honey, its umami rich flavor coats the tongue.
Common Allergens: Crustacean shellfish, Wheat, Soy
Vegetarian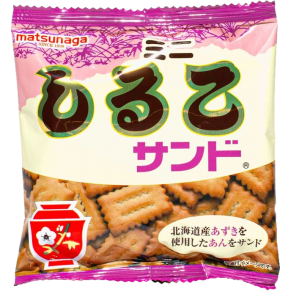 Mini Red Bean Crackers
This unassuming golden cracker conceals a thin layer of red bean paste that adds a hint of sweetness. Its flavor is inspired by shiruko, a traditional Japanese dessert of sweet red bean porridge traditionally eaten in winter. According to snack maker Matsunaga Seika, this beautifully buttery biscuit was created in 1966 to unite the West (represented by the biscuit) and Nagoya (represented by the anko filling). Matsunaga Seika brought back this delicious classic in 2016 to celebrate their 50th anniversary, demonstrating its timeless popularity.
Common Allergens: Crustacean shellfish, Wheat, Soy
Vegetarian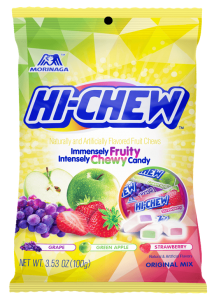 HI-CHEW
HI-CHEW is a soft, chewy candy that contains real fruit juices and purees, no artificial colors, cholesterol-free and 0g Trans Fat. HI-CHEW is the #1 soft candy in Japan and is the new sensation in North America. Enjoy HI-CHEW, a sensationally chewy candy with real fruit juice!
Natural and Artifical Flavors
Gluten Free, 0g Trans Fat Per Serving
No Synthetic Colors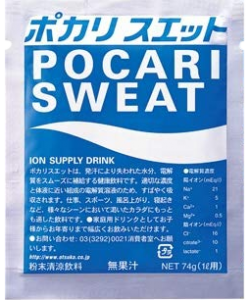 Pocari Sweat
POCARI SWEAT is a health drink that contains a balance of ions (electrolytes) that resembles the natural fluid balance in the human body. Quickly and easily replenishes the water and ions that your body needs, and quenches every part of you.
Ingredients listed are water, sugar, citric acid, trisodium citrate, sodium chloride, potassium chloride, calcium lactate, magnesium carbonate, and flavoring
Mix packet 1 liter (33 oz) of water