Data is everywhere. Data is the new oil. Data is the new gold rush. Data Scientist is the sexiest job of the 21st century. Data plans are unlimited. Data-driven decisions. Maybe you've heard all of these phrases or just a few of them, but you can't get away from data in today's business world. Rather than fear it, why not take advantage of it? The first step is recognizing where you are on your data journey.
Do you still use manually or semi-manually updated spreadsheets, paste them into a presentation and then talk about the grid of numbers at your meetings? There is a better way. There is a visual way. There is a more automated way. There is a more dynamic way. There is a data-driven way. We're here to show you that the modern data practice doesn't have to be difficult, nor does it have to live in Excel alone. With the right tools and knowledge, your data can be your most powerful ally.
Join us in Oklahoma City to hear from InterWorks Regional Solutions Lead Karl Riddett – an analytics professional with nearly 20 years of experience in the retail/restaurant industry. Karl will share the invaluable lessons he's learned working in a major data practice as well as those he's learned from helping others master their data through consulting at InterWorks. The end goal is that you'll leave this event with a clear idea of what YOU can start doing to become truly data-driven.
Agenda:
11:30 – 12:00 p.m: Check-in and lunch
12:00 – 1:00 p.m: Karl Riddett, InterWorks
1:00 – 1:30 p.m: Q&A/Networking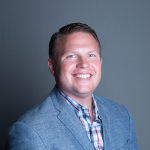 Prior to InterWorks, Karl has an 18-year combined career at Chick-fil-A and Arby's. Karl spent his entire career at Chick-fil-A in IT and helped to create the first Drive-Thru scorecard and Dashboard at Chick-fil-A in 2006. He  found Tableau in 2013 and immediately saw its "game-changing" potential. This lead to Karl starting up BI & Analytics at Arby's Restaurant Group as Manager of BI & Analytics and soon after moved into a leadership role as Director of Data & Analytics in IT.