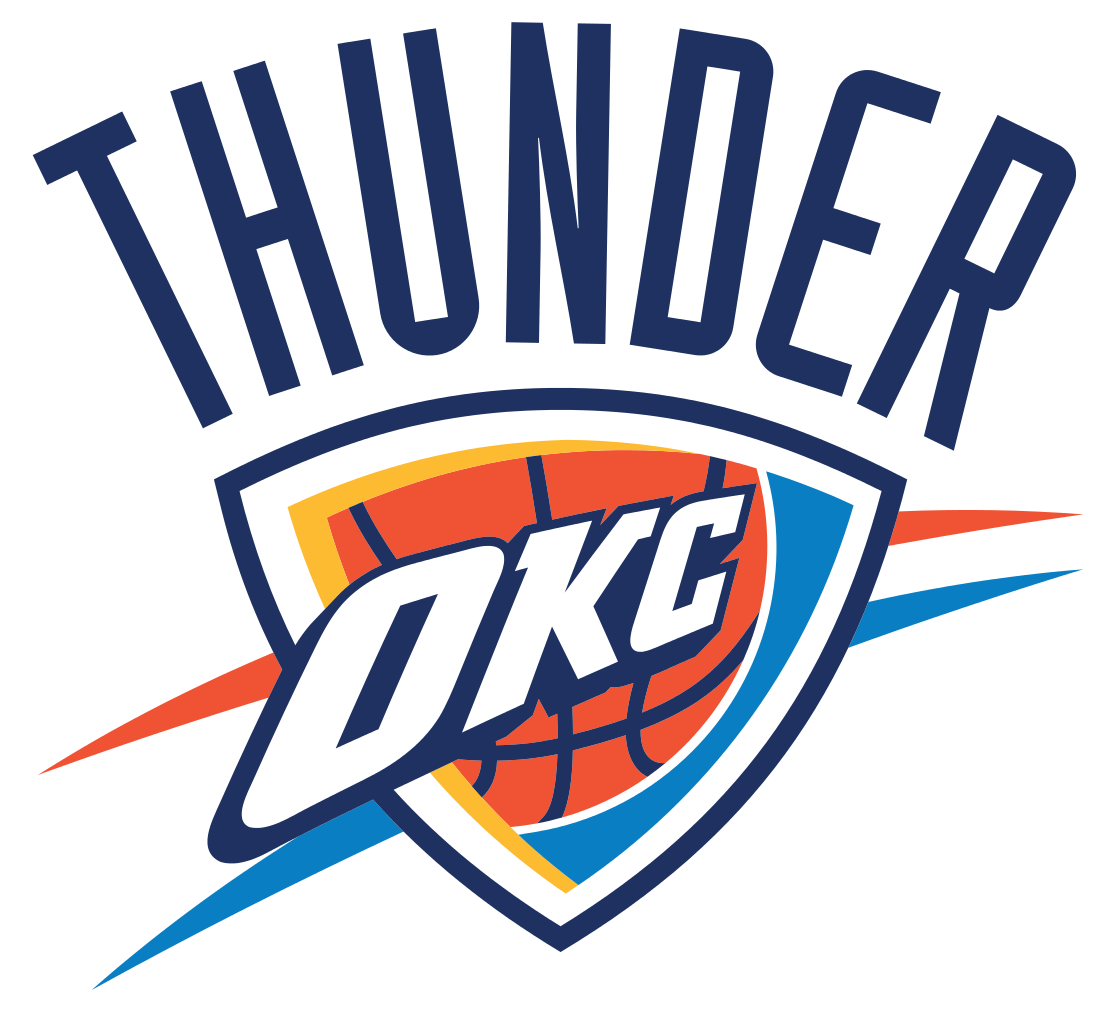 The Oklahoma City Thunder is a professional basketball team based in Oklahoma City, OK. They play in the Western Conference Northwest Division of the National Basketball Association.
Technologies Used:
Services Used:
In 2007, Oklahoma City received some exciting news: They would be getting their very own NBA team. As one can imagine, Oklahomans were ecstatic. After temporarily housing the former New Orleans Hornets after Hurricane Katrina, they developed a fever for professional basketball. This was the remedy. The team formerly known as the Seattle SuperSonics would officially become the Oklahoma City Thunder. In 2008, they tipped off their inaugural season.
With excellent management and promising talent in soon-to-be NBA sensations Kevin Durant and Russell Westbrook, the Thunder were an instant hit on and off the court. One short year later, they would make their first-ever playoff appearance. Since then, they've been one of the NBA's most exciting teams with a passionate fan base to match. From the very beginning, Clay Bennett and the investment group behind the Thunder's move to Oklahoma City were determined to make this franchise a success. So far, their efforts have been massively successful, proving that even smaller markets can have a big footprint.
IT Infrastructure
Challenge
Running a professional sports organization is a challenge unlike any other. With such a broad range of operational activities (games, press conferences, day-to-day operations and more), IT needs can vary drastically. However, one thing is required across the board: reliability.
When they first arrived, the Thunder were still using old IT partners based in Seattle, and things just weren't clicking. With so many different needs and high standards to boot, the Thunder needed a local IT partner that was both diverse and reliable. In 2009, they found that partner in InterWorks.
Solution
The first task the Thunder faced was transitioning from their old monitoring system to something that allowed for more independence. When they moved to Oklahoma City, the Thunder IT Department didn't have full, independent management of their servers. To remedy this, InterWorks helped them regain complete control of their server environment, finishing out the logical transition of their IT infrastructure from Seattle. As time went on in their new home, InterWorks set them up with some new, more reliable Dell servers.
It wasn't long until the Thunder then reached out to InterWorks again, this time for their networking needs. They needed someone to support their Cisco network. Because the various Thunder-run facilities between Oklahoma City and Tulsa (once home to the Thunder's D-League affiliate) required constant reliable access, some new architecture and reconfiguration were needed. Possessing considerable experience in networking, the InterWorks team gladly accepted the challenge.
Results
Takeaways
Transition to Dell servers went smoothly
Network is accessible and highly available
Kevin Durant's MVP press conference a success thanks to reliable wireless solutions
InterWorks ensured the Thunder's transition to their new Dell servers went smoothly. In an incredibly short time, InterWorks made them operational again. InterWorks also got the Thunder's networking in prime order to ensure access throughout their organization remained undisrupted.
After seeing how key InterWorks was in helping them with their server and networking needs, the Thunder knew they had finally found the well versed and reliable local IT partner they sought from the get go. Since then, InterWorks has been on close retainer, assisting the Thunder's IT staff as needed with the usual IT tasks, including network upgrades, configurations, email support and ad hoc planning. That said, in the wide world of sports, not all tasks are "usual."
In 2014, the Thunder faced their greatest IT challenge yet: Kevin Durant's MVP press conference. Since the press conference was to be held in their facilities, they were responsible for ensuring that their wireless network could handle the onslaught of media correspondents and journalists who would be present at the event. They turned yet again to their most dependable IT partner for assistance: InterWorks.
Working on an expedited timeline, the InterWorks team pulled together a formidable enterprise wireless solution from Ruckus Wireless. The network worked wonderfully, and the press conference went off without a hitch. In fact, it ended being one of the most memorable sports announcements in recent NBA history. Impressed with the network's performance, the Thunder bought a permanent Ruckus Wireless solution from InterWorks.

Above: As Kevin Durant accepts his MVP award, InterWorks monitors the wireless network.
Business Intelligence
Challenge
Most people know that sports and statistics go together like peas and carrots. What people may not know is that numbers have a considerable impact off the court as well as on the court. In order to make sound business decisions, an organization like the Thunder needed a firm command of their data. The Thunder primarily wanted a more efficient and user-friendly way to manage, integrate and analyze their CRM and ticketing data.
But where to begin? The BI market has become saturated with numerous vendors claiming that their product is the best. To advise them on their search for the perfect BI tools, the Thunder turned to longtime IT partner InterWorks, who just so happened to have considerable experience in the BI realm.
Solution
Considering the Thunder's desire to easily create visually appealing reports from their data, InterWorks knew that Tableau was the ideal data visualization solution for this scenario. As Tableau's leading Gold Partner, they whipped up a demo for the Thunder in no time, demonstrating Tableau's power, beauty and capability. They even demonstrated how various Tableau dashboards could be integrated into a customized web portal.
Finding the right data visualization and analysis tool was only part of the challenge. To bring their data into Tableau for truly effective analysis, the Thunder also needed a more organized means of storing and accessing that data. InterWorks performed a thorough evaluation of the Thunder's data warehouse and subsequently helped them compare a few new options that could better integrate data surrounding their CRM, ticket sales and social interactions.
Results
Takeaways
Decision made to proceed with Tableau
Immediate transformation of raw data into insight, enabling more data-driven decisions
Having a partner like InterWorks assisting them in the BI decision-making process proved immensely beneficial for the Thunder. After witnessing their Tableau demo, they decided to move forward with Tableau as their primary data visualization and analysis tool. Today, the Thunder are incredibly happy with Tableau, it being instrumental in transforming their raw data into insight. There's no doubt that InterWorks' guidance has thus far contributed significantly to the Thunder's ability to continually improve their organization through data-driven decisions.
InterWorks as a Strategic Partner
When it comes to IT and data, different organizations have different needs. Some simply need a new tool, while others need consulting or training to master that tool. In the case of the Thunder, they needed a partner to help guide their overall strategy – a challenge most service providers aren't capable of handling. It takes a partner with both a deep and broad understanding of IT and data to positively influence the strategic decisions made by an organization like the Thunder. Considering InterWorks' full-spectrum approach, they were ideally suited to the role. Strengthening this relationship further is InterWorks' continued reliability, as demonstrated by their ability to come through in clutch situations like Kevin Durant's MVP press conference. These attributes combined make InterWorks an especially uncommon and valuable partner.
It's also worth mentioning that like any relationship, the relationship between the Thunder and InterWorks goes both ways. Case in point, InterWorks Director of Enterprise Services Daniel Holm reached out to the Thunder to give a special surprise to a group of U.S. Marines. The Thunder responded with incredible class, giving those Marines a VIP tour of the Thunder's facilities. They've also come through on countless other occasions for InterWorkers, making them even bigger Thunder fans.
As the Thunder continue to expand their reach and turn heads in the NBA, they'll continue relying on InterWorks' expertise concerning IT and data-related decisions. As for InterWorks, they'll keep doing everything they can to make sure the Thunder remains successful in achieving their technology goals. After all, isn't it every fan's dream to help their team succeed? That's exactly what InterWorks has and will continue to do for Oklahoma's favorite team.