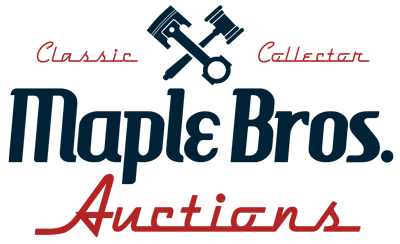 Based out of Tulsa, Oklahoma, Maple Brothers Auctions is a family-run collector car auction with the aim of connecting passionate people with the cars of their dreams.
Technologies Used:
Services Used:
Based out of Tulsa, Oklahoma, Maple Brothers Auctions is a family-run collector car auction. Picking up the mantle from the former Leake Auction Company, Maple Brothers Auction hosts auctions across the Midwest and South Central U.S. Their goal is simple: to connect passionate people with the classic cars of their dreams. Car events are generally tight-knit affairs, and Maple Brothers wants to capture the feeling of being at a family reunion with every auction they produce.
Starting Off on the Right Foot with IT
Though the founders of Maple Brothers are no strangers to classic cars, they are a relatively new player in the market as an organized auctioneering company. Many former Leake Auction Company staff joined the new Maple Brothers Auctions team, so they have plenty of expertise among them. Even so, they wanted to make sure they paid special care to every aspect of the car auction experience. The thing that connects everything is great communication, and the backbone of great communication is a strong IT foundation.
Maple Brothers Auctions' IT Director Richard Maple had prior education and experience with IT, so he took point on securing some solid IT solutions to get the business up and running. Specifically, he knew that Maple Brothers Auctions would need desktops, laptops, email and all the standard technologies you might expect in any business. However, the real challenge was finding a networking solution that would meet a unique use case.
Because Maple Brothers Auctions' business largely takes place in the field at convention centers and expo halls, networking is always a challenge. Sure, they could plug directly into a venue's WiFi, but those networks are usually available to everyone with limited security and reliability. Richard knew they needed a way to create a secure, closed network to keep transactions (some of which exceed six figures) safe and keep unwanted hands out of their network. Because auto auctions are so widely dispersed in venues as large as 200,000 square feet, he also knew that a wired solution wasn't going to work for them.
Richard knew enough about IT to know the players in the game and generally what type of solutions to look into, but he also knew he needed an IT partner that was up to speed on the latest technologies, as well as one that understood Maple Brothers Auctions' needs and goals. Having a strong affinity for local businesses, he also wanted to partner locally. After talking with a few potential partners, Richard identified InterWorks as a great fit.
"When we got ahold of Jonathan Lundin and Todd Walls, they helped us talk through the whole thing in a clear way. They identified Ruckus as an ideal solution, they explained how it works, how it could solve our challenges and they were upfront about the costs and timelines."

– Richard Maple, IT Director, Maple Brothers Auctions
Revving up Ruckus for Wireless Networking
Technology Needs
Mobile and desktop workstations
Email and productivity apps
Mobile wireless networking for special auto events
Security and failover
The first order of business for Richard and InterWorks Systems Engineer Todd Walls was to secure their basic IT setup for the entire company. This consisted of around two dozen Dell workstations – some desktops and some laptops – that could support in-office and frequent remote work. Again, much of this technology would be utilized remotely at venues throughout the year. The addition of Microsoft 365 ensured that staff could access email, spreadsheets and anything else they might need from wherever they are. Then came the crucial part of the solution: the wireless networking setup. Maple Brothers Auctions' wireless networking solution consisted of a Dell switch for ethernet access and a Sophos firewall for tight security and added failover capability, but the heart of the solution was Ruckus Unleashed by Ruckus Wireless.
Ruckus Unleashed is an entirely self-contained wireless solution designed for mobile use cases. The solution supports up to 25 wireless access points, with any one of those access points able to be designed as the controller. Should that controller go offline, the intelligent network automatically designates one of the remaining four access points as the new controller. This ensures minimal disruption in dispersed settings. Another great feature of Ruckus Unleashed is the ability to monitor network performance at a highly granular level in real time. You can see exactly who is connected to your network, as well as the strength of each connection.
Speaking of minimizing disruption, another component to the broader wireless networking solution was a cellular backup plan through Verizon Wireless. This is where the Sophos firewall with failover capability plays a crucial role. Because hotel and conference center WiFi is notoriously spotty, it can often experience outages, especially when under high demand. Should that occur, the Sophos firewall can switch internet to the cellular backup in a pinch, guaranteeing that operations—and specifically transactions from their point-of-sale system—continue without disruption.
"I think the best thing about working with InterWorks is knowing that our IT infrastructure is just going to work. Todd's designed it so that there are so many backups and failsafes that we won't be dead in the water in the worst-case scenario – unless the power goes out, which is beyond our control. We also have the peace of mind knowing that InterWorks is easy to get ahold of and is just a phone call away should we ever need help."

– Richard Maple, IT Director, Maple Brothers Auctions
Live at the Collector Car Auction
It's one thing to talk about an IT solution on paper, but seeing it in action is an entirely different experience. When Maple Brothers Auction planned their first auto auction, they asked Todd Walls to come on-site – both as backup IT support should they need it and simply because they wanted him to see the nuts of bolts of how these auctions run.
First, weeks before the auction even begins, staff at Maple Brothers Auctions is coordinating with potential buyers and sellers to get them in the same place for a single day. Once the day of the auction comes, they bring all the cars to the venue, along with buyers and sellers (or their respective agents), and the magic begins.
On auction day, they set up a behind-the-scenes command center, usually located where there is the right combination of space, privacy and accessibility to multiple power outlets and an ethernet connection to the venue's internet. Here, they set up their Dell switch, Sophos firewall, cellular backup and around eight Dell workstations. They can usually run cable in these rooms and connect their workstations directly to the Dell switch, which possesses multiple ethernet ports. In addition to being the IT hub of the company's operations, it's also the operational hub where all transactions are processed, transfers of title occur and several other operational tasks are executed.
Key Results
Effective and secure ops hub
Speedy wireless connection across large venues
Reliable backup and failover in case of outages
Out on the floor, you have anywhere from 12-15 Dell laptops dispersed throughout the venue, capable of registering deals via a cloud point-of-sale system. This is where Ruckus Unleashed comes into play. With wireless access points placed strategically around the venue, these laptops don't need to rely on wired connections; they can connect securely and wirelessly to the nearest access point with the confidence that their operations won't be interrupted by spotty internet or be vulnerable to an open network.
In addition to all of that, Maple Brothers Auctions hires a media group to conduct livestreams of the auctions via YouTube and Facebook. A clear stream, contingent upon reliable internet connections, gives buyers and sellers who aren't at the event the ability to follow along in real time, allowing for a seamless remote auction experience.
When it comes to large events, there's the assumption that it's never about if something goes wrong—it's about when. But in the case of Maple Brothers Auctions' first event, it all went off without a hitch. A big part of that success was that they could count on their IT operations to see them through any contingency. What's more, because the setup is so user friendly, Richard can run this infrastructure on his own without needing InterWorks to keep an eye on things. Of course, InterWorks is always there for help if needed, but that sort of self-service mentality is one that both Maple Brothers Auctions and InterWorks value.
Exploring New Avenues
With several successful auto auctions now under their belts, Maple Brothers Auctions is well positioned to keep growing their business. Rather than focusing on volume, they're more concerned with making the auto-auction experience more personal. They plan to differentiate themselves by focusing on people and relationships vs. becoming a cash cow. The best part is that they can do this on their own terms. They plan on holding three to four auctions per year, and they're enabled to do so with confidence, knowing they have the IT infrastructure to support them. At the end of the day, for them, it's about being able to focus on what they love: serving passionate classic car fans.
"Our whole goal is to have that family reunion type of mindset. Everyone at these car events knows each other, and we keep adding more people to the family with each event. A lot of other auctions can feel big and corporate, which isn't necessarily a bad thing, but the people who come to our auctions know our names and we know theirs, and that's what we're after."

– Richard Maple, IT Director, Maple Brothers Auctions