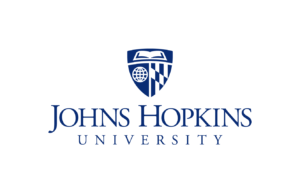 Johns Hopkins is a research university located in Baltimore, Maryland, providing higher education to thousands of students each year.
Technologies Used:
Services Used:
Johns Hopkins is heralded as America's first research university. Located in Baltimore, Maryland, they've provided higher education to thousands of students over the past 140 years. But their reach isn't limited to the walls of their campus – far from it. Their training and research programs can be found in more than 150 countries. Their mission? Pursue big ideas, share knowledge and make the world a better place.
As part of expanding that mission, the Johns Hopkins Development and Alumni Relations (DAR) team seeks to connect existing students and alumni from all the university's schools. By fostering positive relationships among these groups, they aim to maintain a spirit of collaboration that will keep the university leading for years to come.
A Better Way to Measure Development
Like many departments in many organizations, DAR is only as effective as the information on which they base their decisions. Their development team is second to none, but questions arose as to whether this team had timely data and the right tools to help them access that data. DAR and the university as a whole had been using Oracle for all of their data and analysis needs, but they knew more modern solutions could help them elevate their efforts.
After doing some research, DAR discovered Tableau. In their eyes, this platform changed everything. With the ability to create gorgeous yet functional data visualizations, DAR was excited about transforming the way they interacted with their data. Furthermore, the potential for Tableau to be used in a truly self-service way was exactly in line with DAR's vision of modern analytics.
That settled it. DAR purchased Tableau Desktop and Tableau Server to begin exploring Tableau's potential firsthand. To help expedite the process, they decided to bring in a consulting firm that came highly recommended to them from a contact at Princeton University. Incidentally, they had also interacted with this consulting firm during the 2017 DRIVE/ Conference – a conference focused specifically on education analytics. This firm was InterWorks.
A Test for Success
After initial meetings, both DAR and InterWorks agreed that the best way to prove the value of Tableau was to create some prototype dashboards and show them to a focused audience of stakeholders. All the while, they sought to migrate Tableau Server from a server they were sunsetting to a centralized server managed by the university's IT department. They would also upgrade their Tableau Server to an Enterprise license in the process.
Primary Objectives
Create prototype dashboards
Migrate Tableau Server
Deliver Tableau Training
When DAR asked who could help them with such a migration, Brad Fair, an InterWorks solution architect, immediately jumped in and worked with the university's IT department to resolve any Server challenges as part of the migration. This Server piece was critical to whether Tableau could have lasting and far-reaching success within the university.
With the right Server infrastructure in place and the pilot dashboards ready to go, DAR was ready to share their work. It was a hit. Stakeholders were ecstatic and ready to immediately book Tableau training with InterWorks to educate DAR developments officers on the power of Tableau. The InterWorks team soon came on-site and delivered a Tableau Combo Course, teaching 15 development officers from across the university everything they needed to know to get started in Tableau.
Setting the Foundation
Excitement about Tableau wasn't the only discovery made by DAR and InterWorks during this initial phase. While working to bring data into Tableau, DAR realized that their underlying data needed some engineering love to be more impactful and ready for analysis. This led to additional discussions with InterWorks' Data Practice Lead, Brian Bickell, about possible solutions to get their data in shape.
After talking with DAR about improving data quality and architecture, Brian was able to formulate some concrete recommendations that would greatly improve their interaction with data. The first step was for Brian and InterWorks' Data Management team to conduct a data architecture discovery evaluation. This evaluation would help define roles within the organization for data stewardship, outline a well-architected data warehousing plan and identify relevant tools to aid in achieving those goals. This plan would also adhere to Agile Data Warehousing standards, ensuring optimal collaboration among data stewards, as well as the creation of standardized data models with analysis in mind. With updated architecture and clean data, DAR would be able to glean clearer and deeper insight once their data made it to Tableau.
Going Big from the Beginning
DAR encountered many of the same data challenges faced by educational foundations – access, reliability, interactivity and end user empowerment – but DAR is different in a key way. When it comes to making progress with data initiatives, many organizations must turn to guerilla tactics. This often means that one extremely dedicated person or team is constantly pushing progress and struggling to get buy-in. DAR, on the other hand, was able to get stakeholders on board quickly in comparison. How did they manage that?
Keys to Success
Organizational buy-in
Focus on data foundation
Strategic partner assistance
Thanks to their presence in every department across the university and the efforts of dedicated staff members whose job it is to evaluate the best tools for the job, DAR was able to quickly identify Tableau as a difference-maker, reach out to a trusted partner for assistance and earn organizational buy-in. That equals more benefits, faster. From a practical standpoint, this will be a huge productivity boost for DAR. The ability to make more intelligent decisions in a matter of minutes is a massive improvement from their Oracle days. As their data foundation solidifies, the confidence and ease with which they make decisions will be amplified. From there, they'll truly be on the path to self-service analytics.
Though DAR's journey is far from over, they already have a huge leg up in achieving their data goals. For now, they're simply excited about the difference Tableau has made, as well as the potential impact it will have once the right foundation is set. They're already running with the progress they've made, and InterWorks will continue to serve as a trusted resource along the way.