Intro
Howdy, partner! We see that you're new to these parts, so we want to take a moment and share some nuggets of invaluable info with you. We obviously believe you're pretty darn special—otherwise, you wouldn't be here—and we know InterWorks wouldn't be here without our team of experts, like you. Our success is largely due to finding and keeping our treasure trove of employees safe and satisfied. We search high and low for the diamonds in the rough that make InterWorks the scrappy, smart pioneers we are.
We know we've struck it rich when it comes to our team, which means we work as hard as we can to protect our assets. In this next section, you'll find all of our most wanted information, from payroll and benefits to professional development and the wildest perks around. Now go on, git!
Payroll Schedule
Business is booming in town, and we know competition is something fierce when it comes to getting the best of the best to join your posse. We understand how important it is to offer competitive salaries and benefits in order to maintain our high level of success. On the flip side, we're also intent on building a sustainable company that isn't subject to every fluctuation of the tech industry and the larger economy. When we find great people who fit the InterWorks mold, we stand by 'em, and we're proud to offer reasonable initial salaries and readdress them as people achieve more and more success. Some employers out there may be able to offer higher dollar values, but we know that InterWorks is second to none when it comes to the team you'll be working with, the atmosphere of casual excellence and the opportunity to do what you truly love.
Compensation
Your offer letter shows whether your position is full-time or part-time and whether it's exempt or nonexempt. Full-time employees are eligible for medical and retirement benefits, but all employees can participate in company perks. Nonexempt employees are eligible for overtime, per standard overtime guidelines.
Paychecks
We issue paychecks on the 15th (covering the 1st – 14th) and the 1st (covering the 15th – last day of the month). Changes will be made in advance whenever holidays or closings interfere with the normal pay schedule. So, make sure you ride on over to the bank to check on your money bags if you're not sure.
Feedback & Evaluations
At InterWorks, your voice is important to us, so feel free to give us a holler anytime. We want our employees to lead the charge, so we provide a heck of a lot of ways for you to share the thoughts and brainy ideas you've got rolling around in your noggin.
15Five
15Five is our employee engagement platform that serves a number of functions.
First, we use it for periodic (generally biweekly) pulse checks: How is your week going? Do you have any challenges you're facing? What's going well, and where do you need a helping hand? Do you feel like a lone tumbleweed tossed by the wind, or are you riding high, on top of the world?
We also use it for targeted surveys: What do you think of our health insurance? What's on your technology wish list? What kinds of newfangled snacks would you like in the canteen?
Next, we use it track our company-wide, practice-level and individual objectives. Everything we do circles back to making InterWorks a great place to be. This ain't no goat rodeo. We mean business when it comes to getting the best people to deliver the best work to the best clients. All of our strategy to accomplish this can be found in our 15Five Objectives and their associated Key Results.
Also, managers can use 15Five to keep up with their 1:1s and to follow up with team members. Because we're not about putting cattle tags on people.
Annual Reviews
We are constantly in communication about the quality and efficiency of the work we're producing, which means we're evaluating performance on an ongoing basis. This informal review feedback is essential to each person here achieving their personal goals, as well as providing the best possible work product. However, casual chatter at the local water cooler just isn't the same as a grand ole annual review. Therefore, we also conduct more formal performance reviews via 15Five on an annual and semi-annual basis. This is the time to look back on what you've accomplished and set goals for yourself. These reviews give us a chance to look back at the year's successes and struggles and to assess the opportunities ahead. Compensation adjustments may also be made based on these yearly reviews.
AMA
We also offer an "Ask Me Anything" Q&A format at interworks.com/ama. This is where you'll go if you'd like the boss himself, Behfar, to respond to a question that affects the company as a whole. We ask that you drop your name, so we can have some follow-up discussion and better context for your inquiry.
Ideas
Finally, we have the "Ideas" button in Slack. If you make a suggestion that could benefit InterWorks, use this button. This will set a process in motion to make your brilliant ideas come to life.
Benefits
We are committed to sponsoring a comprehensive benefits program for all full-time employees. We periodically review the benefits program and will make appropriate modifications based on maintaining a competitive and sustainable level of benefits. Due to the nature of changing and unforeseeable circumstances, we do reserve the right to modify, add or delete benefits offered. We know it's a wild world out there, which is why we always aim to provide the very best to our team and their families.
Benefits Roundup:
Eligibility begins the 1st day of the month following your start date
Medical Insurance
Dental Insurance
Vision Insurance
Basic Life Insurance
Long-Term Disability Insurance
Group Accident, Critical Care, Short-Term Disability
Telemedicine
FSA/HSA/Dependent Care
401(k) Retirement Plan
Benefits Guide
InterWorks' most important asset is our people, which is why we don't monkey around with your welfare. That's also why we offer you an exceptional benefits program with many options, designed to meet your needs and the needs of your family. Below, you will find summaries of InterWorks' Medical, Dental, Vision, Basic Life and AD&D, Long Term Disability, Short Term Disability, HSA, FSA and Telemedicine.
Enrollment Procedures
The following steps will guide you through the enrollment process:
Carefully review the plan information in the benefit enrollment guide and all other plan materials included in your enrollment packet. The insurance carriers' websites also provide important information and tools that can help you make enrollment decisions.
Consider the needs of any dependents you may have. If you are married, review the coverage currently offered through your spouse's employer to avoid costly duplicate coverage.
Enrollment is available online through the WebBenefits portal via your Paylocity account. Please contact HR@interworks.com to get started.
Changing Your Coverage
Make your benefit elections carefully, including the choice to waive coverage. Your pre-tax elections will remain in effect until the next annual open enrollment period unless you experience an IRS-approved qualifying change in status. Qualifying change in status events include, but are not limited to:
Marriage, divorce or legal separation
Death of spouse or other dependent
Birth or adoption of a child
A spouse loses coverage under another employer group medical health plan
A spouse becomes eligible for coverage under another employer group medical health plan
A dependent's eligibility status changes due to age
You or your spouse are covered under a group health plan and experience a change in work hours
Relocation into or outside of your plan's service area
Dental Benefits | Cigna
You and your family have the opportunity to enroll in the dental insurance plan provided by Cigna. The dental PPO plan has the same benefit coverage both in and out of network. You can maximize your benefits by using an in-network dentist since these providers charge a discounted rate for services and do not charge you for amounts in excess of UCR (Usual, Customary and Reasonable).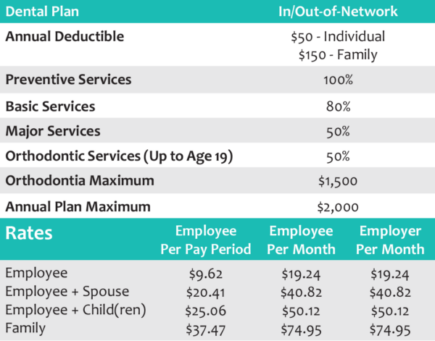 Vision Benefits | VSP
VSP members have access to one of the nation's largest vision networks. VSP is the only vision plan that gives members the ability to use their in-network benefits at 1-800 CONTACTS, or choose a private practice eye doctor, or go in store to LensCrafters®, Sears OpticalSM, Target Optical®,  JCPenney® Optical and most Pearle Vision® locations.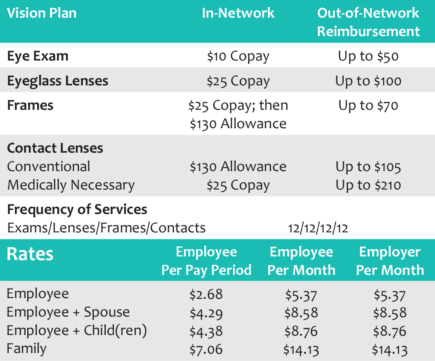 Medical Benefits | Cigna
Effective May 1, 2022 your medical benefits will renew through Cigna. You will be offered two plans. A summary of the plans are included here for your review.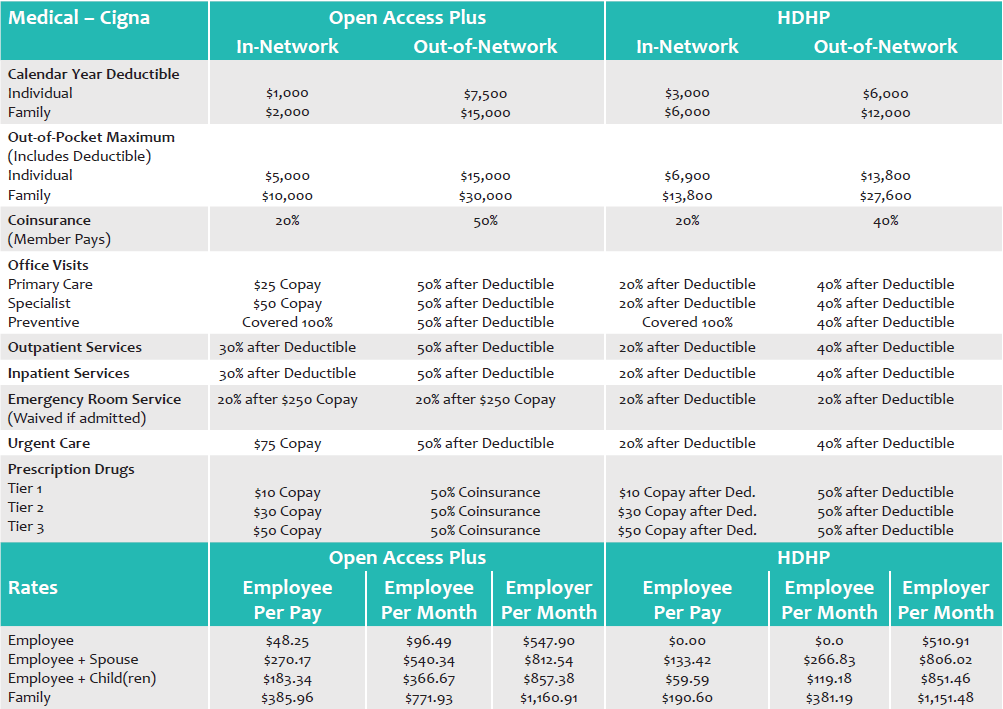 Telemedicine | FlexCare
This benefit gives you and your family 24/7/365 access to US Board-Certified Physicians who can diagnose, treat and prescribe medication when necessary, via phone or secure video for many acute medical conditions at a $0 consult fee. This program also includes access to Licensed Therapists and Behavioral Health Providers for online therapy sessions; three free talk therapy sessions are provided per family per year.
100% Employer Paid
(Additional behavioral health counseling sessions available at a discounted cost.)
Health Savings Account (HSA) | Paylocity
A Health Saving Account (HSA) is a way for you to save pre-tax dollars that can be used to pay for qualified health care expenses like deductibles, copays, coinsurance, prescriptions, vision and dental expenses. The funds are deducted via payroll and are deposited into the HSA account for future use. In order to contribute to an HSA, you must be enrolled in InterWorks' High Deductible Health Plan.
Who contributes to an HSA?
Anyone enrolled in an HDHP Plan
For 2022, InterWorks will contribute to your HSA, up to:
Employee Only $500
Employee + Dependent $1000
How much can I contribute to an HSA?
Employee only coverage: $3,650 per calendar year
Employee plus dependent coverage: $7,300 per calendar year
If you are 55 or older, you can make an additional annual catch-up contribution of $1,000
Who cannot contribute to an HSA?
If you are age 65 or older and enrolled in Medicare
If you have health coverage under another medical plan that is not a high deductible plan
If you or your spouse have a Full Purpose FSA
Basic Life and AD&D | Cigna
InterWorks provides eligible employees with a Basic Life and Accidental Death and Dismemberment benefit through Cigna at no cost to you. This benefit is equal to $50,000.
100% Employer Paid
Long Term Disability (LTD) | Cigna
InterWorks also provides eligible employees with a Long Term Disability benefit through Cigna. This benefit is employer paid. In the event that you become disabled from a non-work-related injury or sickness, Long Term Disability income benefits are provided as a source of income. After 90 days of being disabled, employees are eligible for this benefit. This benefit pays 60% of monthly earnings to a maximum of $6,000 per month.
Monthly Benefit Percentage: 60%
Maximum Monthly Benefit: $6,000
Benefit Waiting Period: 90 Days
Maximum Benefit Period: SSNRA
100% Employer Paid
Voluntary Benefits | Cigna
Short Term Disability (STD) 
Short Term Disability coverage is offered through Cigna. In the event that you become disabled from a non-work-related injury or sickness, Short Term Disability income benefits are provided as a source of income. After 14 days of being disabled for an accident or illness, employees are eligible for this benefit.
Accident
Accident coverage helps offset unexpected medical expenses, which can result from a fracture, dislocation, burn or other covered accidental injury – whether it occurs on or off the job. Surgical care, hospitalization, transportation and lodging assistance are among the benefits covered.
Critical Care
Critical Care coverage helps provide a financial cushion with a lump-sum benefit if you are diagnosed with a covered critical illness: Heart Attack, Stroke, Cancer, Major Organ Failure,  Permanent Paralysis due to a Covered Accident, etc.
100% Employee Paid
Voluntary Life | Cigna
Employee: Increments of $10,000. 5x annual earnings up to $500,000
Guarantee Issue: $100,000
Spouse: Increments of $5,000. 50% of employee amount up to $250,000.
Guarantee Issue: $25,000
Children: Increments of $1,000 up to $10,00. (Birth to 6 months = $500 benefit)
Guarantee Issue: $10,000
Flexible Spending Account (FSA) | Paylocity
An FSA offers you a way to reduce your taxable income while at the same time pay for medical and dependent daycare expenses. You can use pre-tax dollars toward eligible expenses. The annual household maximum allowed for healthcare expenses is $2,850 and $5,000 for Dependent Care. For those enrolled in the HSA, a Limited Purpose FSA is available for dental and vision services.
100% Employee Paid
Contact Information
Contact your Client Advocate at OneDigital with any plan design questions or claim issues. He is there to assist you with any plan issues.
Bobby Sims
Phone: 1.404.649.6155
Toll Free: 1.800.304.6157
bsims@onedigital.com
Medical, Dental, Life, LTD and Voluntary Benefits
Cigna
Member Services: 1.888.842.4462
www.cigna.com
HSA & FSA
Paylocity
Member Services: 1.888.873.8205
https://access.paylocity.com
Vision
VSP
Member Services: 1.800.877.7195
www.vsp.com 
Telemedicine
FlexCare
Member Services: 1.404.845.4100
www.flexcare.com
Life Assistance Program
Cigna
Member Services: 1.800.538.3543
www.cignabehavioral.com/cgi
This is intended as a convenient summary of the major points of benefit plans. This does not cover all provisions, limitations and exclusions. The official plan documents, policies and certificates of insurance govern in all cases and are available for your inspection at any time.
Our 401k Policy
Ride off into the Sunset
The plan is a valuable benefit program offered to you as an employee of InterWorks. It can help you put money aside for a financially secure retirement. Through the plan, you can save for retirement now, so you can make hay where the sun shines and have the income you'll need after you stop working.
Participating in the InterWorks, Inc. 401(k) Plan is easy. You can contribute a portion of your pay to your plan account each payday through convenient payroll deduction. InterWorks also may make contributions to your account. Contributions are then invested in the plan's investment options you select.
There are tax benefits as well. Your qualifying contributions, employer contributions, and all earnings on your account are not subject to current federal income tax (or, where applicable, state or local taxes) until you take them out of the plan. This tax deferral gives your retirement savings the opportunity to grow under the most favorable terms possible. So, don't dilly dally, ya hear?
Summary of Plan Features
Who can participate?
All full-time employees are eligible on the 1st day of the month following your employment start date. In addition, you must be age 21 or older.
When may I join?
Once you become eligible, you may enroll on the 1st of the month following your hire date. If you choose to wait, you may enroll at any time, using the American Fidelity website.
How much can I contribute to the plan?
As an eligible employee, you may authorize your employer to withhold up to 75% of your salary not to exceed the annual dollar limit set by law.
The annual dollar limit can be found here: www.irs.gov
Both traditional pre-tax deferrals and Roth after-tax deferrals are permitted in the plan
Can I make catch-up contributions to the plan?
Eligible participants who are at least age 50 before the end of the plan year may make catch-up contributions to the plan.
The additional catch-up dollar amount can be found here: www.irs.gov
Are rollover contributions permitted to this plan?
Yes, rollover contributions may be made to this plan from other qualified plans and IRAs at any time after you become an employee. Contact your previous employer to initiate the process. You will also need to obtain a rollover packet from the American Funds website.
How does my employer contribute to the plan?
Employer Discretionary Contribution: Your employer will contribute 50% of your contribution up to 6% of your annual salary on your behalf. If your employer makes a contribution, it will be subject to a vesting schedule as discussed below.
How do I become "vested" in my plan account?
All contributions that you make are always 100% vested. Employer contributions vest as follows:
| | |
| --- | --- |
| Years of Service | Percent Vested |
| After 1 year | 0% |
| After 2 years | 20% |
| After 3 years | 40% |
| After 4 years | 60% |
| After 5 years | 80% |
| After 6 years | 100% |
What is the normal retirement age for the plan?
The normal retirement age for the plan is age 65. If you are not already fully vested, you will become 100% vested in all of your accounts under the plan if you retire from InterWorks on or after reaching your normal retirement age.
How are plan contributions invested?
You give investment directions for your account, selecting from investment choices provided under the plan. You may change your investment choices at any time.
What investment options are offered under the plan?
Option A: Choose a Target Date Fund
A good choice if you:
Prefer a simplified approach to investing
Want to invest in a portfolio that's specifically designed with your retirement date in mind
Don't want to make decisions on how different investments work together
Option B: Build Your Own Portfolio
You may do this by accessing your American Fidelity account.
Perks
Welcome to Ye Olde InterPerks Store: Free Stuff Just for Y'all? Darn Tootin'.
First, Snag Some InterWorks Swag
Each year, InterWorks will pay for half of up to five InterWorks-branded clothing items. Where do you get these items, you reckon? There's a web store for that! Head to the InterWorks Online Store for the full catalog.
Wellness Benefit
We want to promote a physically and mentally healthy lifestyle.
FOR:  Often a membership, such as a gym, service or studio. No hardware or equipment purchases.
HOW:  Submit the receipt each month and you'll be reimbursed up to the limit. Single transaction per month, please.
AMOUNT:  Individual $50 p/mo. or Family $75 p/mo.
Using an Oklahoma YMCA? Contact receipts@ and we can pay direct.
Life Balance Benefit
We want you to relax and recharge, either as a family or going solo.
FOR:  Typically, an annual membership or pass. Think lakes, parks, aquatic centers, zoos and museums.
HOW:  Submit your receipt and you'll be reimbursed. Single transaction per year.
AMOUNT:  Up to $200 p/yr.