You may have heard about an event called Tableau Conference on Tour that took place in London earlier this month. Companies and analysts from all over the world gathered for a four day event to learn about Tableau, network with other analysts and experience Tableau for themselves. I've attended TCOT before, so I knew what to expect from the sometimes tiring convention.
This year I was chosen to be one of three participants in the Iron Viz contest. An Iron Viz essentially works like this: you receive data four days before you must build a dashboard in front of a large audience, all in the span of 20 minutes. To better explain the entire experience, I've asked my fellow competitors, Athan Mavrantonis and Jonathan Trajkovic, to share their point of view from the contest.
Question #1: How did it feel to be selected for the first Iron Viz Europe?
Athan – I never expected to be selected for the inaugural Iron Viz Europe, because I had just begun working with Tableau six months prior. In fact, I only submitted my entry hoping to get some exposure and feedback from the community on my progress so far. After being selected, I was truly surprised and honoured, but at the same time I thought it was a huge responsibility to represent the community on stage at such an early point in my Tableau journey.
Jonathan – I was excited to have the chance to compete in the very first Iron Viz Europe in London. When I found out I was selected, I was really happy and at the same time a little bit worried, because I knew how much work goes into the contest. This was only my second time to compete, after the Seattle Iron Viz in 2014. So, I knew what I was getting myself into. Honestly though, it's really great to have a chance to "fight" alongside such great and talented people.
My Perspective – I always plan on taking part in an Iron Viz competition. They are a great way to push your own limits and the limits of Tableau, both technically, and in terms of design and storytelling. With the Iron Viz, you have a lot less time. I'm sure if looked at the data from the Iron Viz in the feeder, the result would have been a completely different visualization.
"Honestly though, it's really great to have a chance to "fight" alongside such great and talented people."
– Jonathan Trajkovic
Question #2: What was your experience like pre-contest?
Athan – The days leading up to the competition can be challenging. However, I think the most important thing to do is to remain calm, not only on stage, but also during the time you have with the data. We received the data on the Saturday before the event, so we had about four days to work with the dataset. That's certainly enough time to come up with a story, build a viz and practice to be on time. Based on my experience, coming up with a story as quickly as possible and sticking with it is crucial, because then you have more time to practice.
Jonathan – It is really awesome to be a contestant because you have to find an idea, work at translating your idea into Tableau and then practice! The first time I competed in Seattle, I was very stressed by the contest. I would keep repeating to myself "Try to do your best with simple things." I did it simple in 2014 and I was happy with the result. On the other hand, I couldn't help thinking "I should be doing a more tricky dashboard!" This year in London, I had the same initial idea to keep it simple. But after one day, I decided against this strategy and approached the contest as a challenge.
My Perspective – We got the data on Saturday, but I really only got time to look at it Sunday evening and by Monday I felt a bit disheartened. Sure, I could create a few charts with the data given, but to me it was missing the narrative. Luckily after lunch on Tuesday I hit a breakthrough and found my narrative and began to work on the best way I could tell it. I was also working with InterWorks during the day and would practice in the evening. It was funny to see all the tweets talking about #DataNightOut while I was practicing in a hotel. In the end, it was worth it.
"Inside Fact: The 3 of us skipped lunch and only had a banana as we were so anxious and nervous."
– David Pires
Question #3: How did you feel on stage building your viz?
Athan – The experience on stage is not as frightening as it may seem before you walk out in front of everyone. It's obviously not common to viz in front of thousands of people watching you, but if you focus on your screen and follow your process, then you can handle the noise and time pressure. Of course, it's a completely different environment compared to practicing your viz in your hotel room. That's why you should always save some extra time for anything that can go wrong on stage.  
Jonathan – It is an opportunity to have fun! That is why I chose to do a spider chart during my live session. It was really interesting, because one day before the contest, I couldn't complete the dashboard in less than 20 minutes. I just barely succeeded in finishing it in 18 minutes, only two hours before the Iron Viz began!
My Perspective –  I'd been told that even though we had 20 minutes, we should aim to get finished with a few minutes to spare as you get so nervous that it slows you down a lot. My first concern was to clean the data and remove any data or fields I didn't need. During rehearsals the day before, I made the decision to change to a dark background as I didn't think a white one would be as readable to the audience past the first few rows. It was also really important to have Erwin with me, my sous-vizzer. Erwin is a really funny guy and tried to help me relax. He was also the eagle eye behind me, making sure I didn't miss anything. Once the viz was done it was hard having to wait for the results. Even though I didn't think I'd win when I was initially picked from the feeders, when you are standing up there on stage, you start thinking "Wouldn't it be nice if…"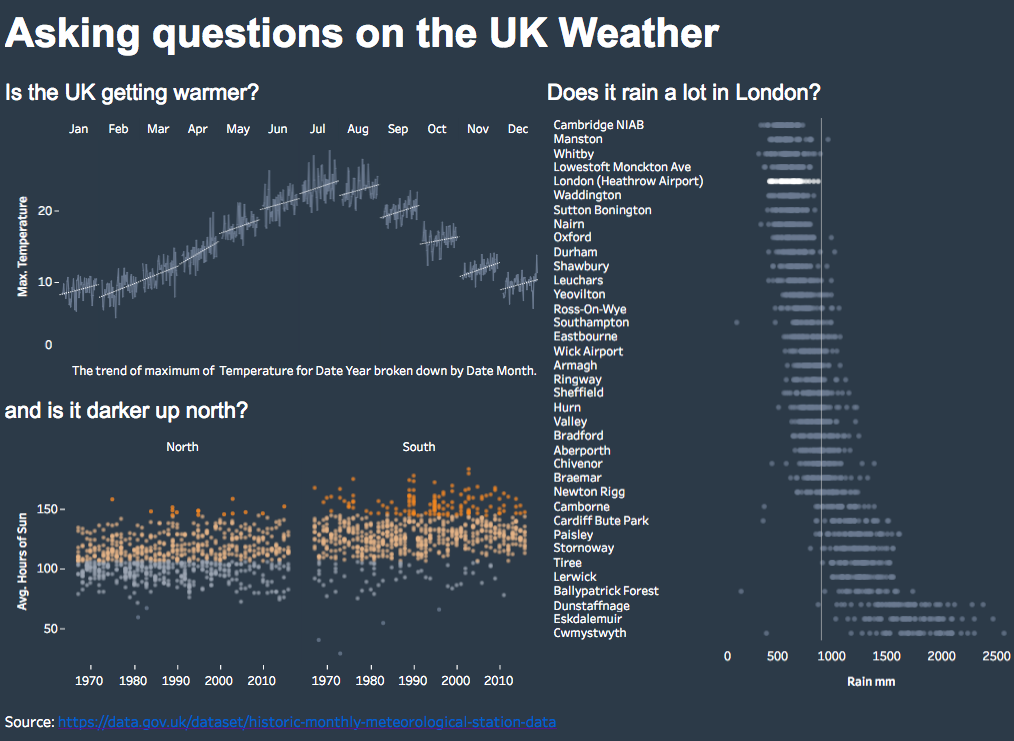 Above: David's winning viz
Question #4: How would you summarize the experience?
Athan – I think my case serves as an example of how anyone can go from zero to an Iron Viz stage within a few months and that's because Tableau is such a user friendly software. The Tableau and data community is particularly amazing, because everyone is so welcoming and supportive.
Overall, it was an amazing experience. Congratulations to David for his well-deserved win and to Jonathan for his amazing effort. It was a great pleasure to share the stage with both. Many thanks to our hosts Sophie and Louis for making it feel fun and my sous-vizzer Rachel for keeping me calm on stage.
Jonathan – For the second time, I did not win the contest. However, I was very glad and proud to be on stage with such great people like David and Athan of course, but also Eva Murray, Andy Cotgreave and Andrew Beers! I'd like to congratulate all of them, especially David the winner and Athan who has only six months of Tableau experience!
My Perspective – I'd just would like to say a big thanks to Tableau for the opportunity. Sophie and Louis were amazing hosts and the work behind the scenes to make it look as slick as it was on the day, was really incredible. Hats off!
Finally, it was a pleasure to share the stage with Jon and Athan. I think that between the three of us we did our best to represent every spectrum of the community, from Jon a previous Zen Master to Anthan who started using Tableau just six months ago. It was great to share a few moments with them on the days before the event and I look forward to seeing them soon. 
"I think my case serves as an example of how anyone can go from zero to an Iron Viz stage within a few months."
– Athan Mavrantonis