Over the years, I've always been behind the curve when it comes to trends. I've only recently started to use Uber and took me a while to decide if skinny jeans were here to stay as well. Apparently, they have overstayed their stay and are on the way out. That said, I got my Spotify account only a couple months after it was launched in the UK. That was 10 years ago!
Knowing that I've heard countless hours of music from various genres, I was keen to get my hands in that data and see what I could analyse trends wise. Unfortunately, Spotify does not make all the listening data available. Maybe it's time to start a petition to ask Spotify to release the data to the individual. That would be sweet. Are you listening Spotify?! What the API gives you is access to the saved music, so if you always save the artists and albums you like to listen to and are organised like that, you should definitely try out the Tableau Web Connector for Spotify.
I'm not that organised, but I wanted to know what the data said anyway. To do this, I've used the Spotify web data connector which gave me access to three tables: Artists, Albums and Tracks.
The Spotify API has some very interesting metrics, a small sample below:
Energy
Loudness
Dance-ability
Key
Mode (Major/Minor)
Time Signature (if Tool was on Spotify this would be a cool analysis, they are famous for using odd time signatures)
You also get the expected dimensions:
Artist Name
Track Name
Album
Genre
Release Date
Link to the Track
Track Number
To use a web data connector in Tableau, you just have to select Web Data Connector from the data sources options:
Paste your URL into http://spotify-wdc.azurewebsites.net/, as shown below:
Log in to Spotify:
Choose the data collection time period: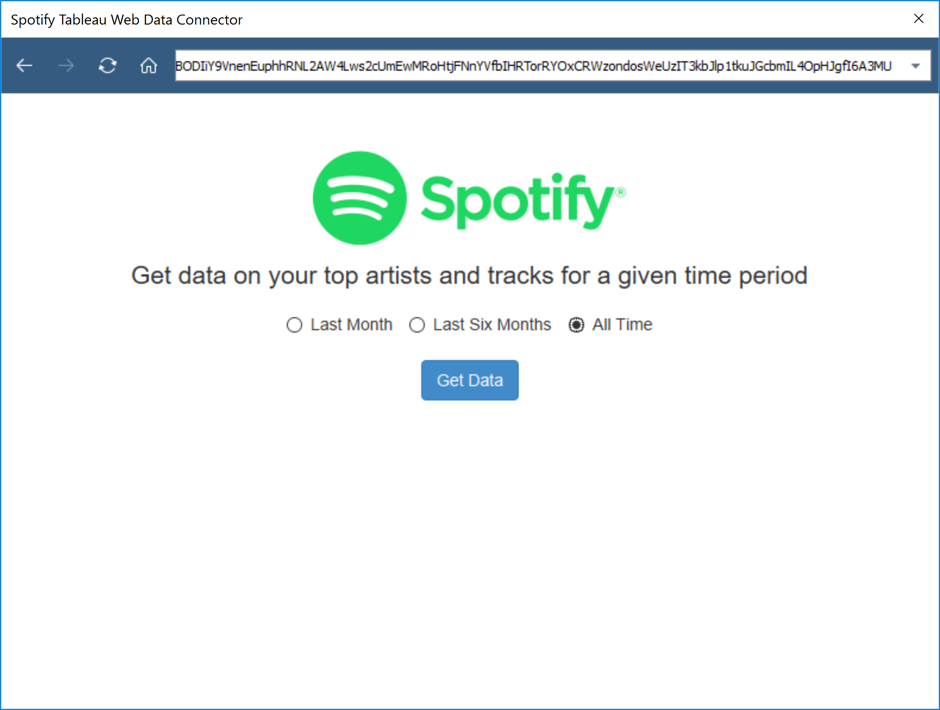 After clicking Get Data, you'll have access to the tables mentioned before:
Time to explore and see what your data tells you. That's exactly what I did a few weeks back, and this is what I found:
I've saved 40 unique artists, 45 unique albums and 701 unique tracks. There's a funny skew in that I have a Studio Album Collection by Red Hot Chilli Peppers that is 116 songs in length. Taking that skew into account, most of the music I saved is in the major mode. In fact, three quarters of the tracks analysed were in a major mode. Here's a good article explaining what modes are and just as a reminder:
"The three major modes are Ionian mode, Lydian mode and the Mixolydian mode.
The four minor modes are the Dorian, Phrygian, Aeolian and the Locrian mode."
Major is usually associated with happy songs, and we can also see on my saved tracks that the majority has an energy % of 60%+ which is what I expected. I like to listen to music at work, and I always want something happy and fast-paced to keep me in the groove while working. Sad songs just don't cut it for me. Also, RHCP is often fast and happy tunes, too. Interestingly C, A, D and G are the main keys of the songs I listen to. But when it comes to Minor modes, it's in the key E that I listen to most.
As always with Tableau Public, I think the best thing is to be able to give the opportunity for others to use what we've created and I encourage you to download the workbook and connect to your data. Do share in the comments below your findings. If you need, you can also just create your data source as explained above and replace my data source by following these instructions. This is just the start of what the Spotify web connector can show you, and I will certainly be revisiting this topic quite a few times in 2017. I'm now saving much more and I hope it makes a difference.
Thank you for reading, until next time.